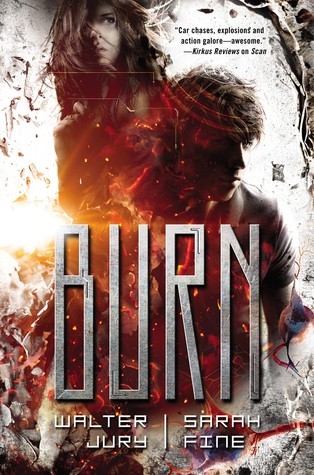 Series: Scan (bk. 2, finale)
Genera(s): Sci-fi Thriller
Subjects: aliens, adventure, science, secret societies, conspiracies
Setting: New York and various other places
POV/Tense: 1st person POV, present tense: Tate Archer
Publisher: Penguin: Putnam Children's
Summary/ product description:
""Car chases, explosions and action galore—awesome."—Kirkus Reviews on Scan
At the cliffhanger ending of Scan, Tate loses the very thing he was fighting to protect, what his father had called the key to human survival. Tate doesn't have much time to worry about it because he needs to get away, to ensure he and Christina are safe. His father left him one last thing that can do just that—a safehouse, which turns out to be a clue to what's really threatening the planet. As Tate follows the clues his father left behind, he starts to uncover the truth, realizing he's up against an enemy he's only beginning to understand.
A riveting, fast-paced "we are not alone" adventure, Burn thrills to the very end."
My Review:

Burn is the finale to what started in Scan. I didn't know this was a duology, or a two-book series. I guess sequel-finale are getting more popular. Anyways, I enjoyed Scan so much, I was hoping for more than two books. At least the sequel was awesome and it properly wraps up the story.
Our hero, Tate Archer, is an awesome narrator, and his girlfriend Christina is kickass too. They remind me of Gray and Bree from the Taken trilogy by Erin Bowman or Alex and Darla from Ashfall or any of those awesome sci-fi YA couples. Not so heavy on the romance though. Tate has a ridiculous amount of skills. Like the kind of skills that a secret agent/spy might have. His father taught him multiple languages, martial arts, chemistry and war strategy. And he also went to normal high school too. He's too busy running from the Core to protect his father's device to deal with school now.
This series is action packed. It's like twice as action packed as many of the sci-fi books I've read recently. Sometimes I get overwhelmed with the action and become lost and confused, but I can picture it okay. I love all the sci-fi elements of this series. I feel like going on a alien-related series YA kick. These aliens aren't scary like the ones in the Alien movie though. These aliens are pretty much genetically identical to Humans and they call themselves H2. When they breed with a human, their offspring is H2. That's why now 2/3 of the population is H2, though most are unaware of their existence. Tate's father made a device using alien tech to detect the different species. Blue for human, red for H2. The scanner scan someone as orange, so do they now have a 3rd species hiding under their noses?
So much happens in this book! Allies are made between prior enemies. Discoveries are made. I'd hate to spoil the ending, so I guess you should read the book. If you have now read scan, you should. I recommend this to fans of The 5th Wave by Rick Yancey, Maximum Ride, Divergent and other sci-fi/action books. I met the authors last year. Did you know Walter Jury (that's a pen name) is a movie producer who worked on Divergent? That's awesome! I didn't know that when I met him. Sarah Fine also wrote Of Metal Wishes, which I want to read.
Cover Art Review: I love these new covers! The illustration/photo is amazing.