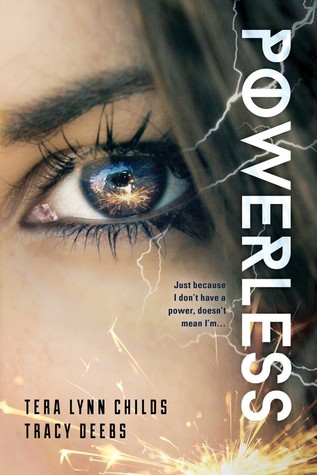 Series: The Hero Agenda (bk. 1)
Genera(s): Sci-fi/Romance
Subjects: superheroes, supervillians, abilities, superpowers, conspiracies
Setting: Boulder, Colorado
POV/Tense: 1st person POV, present tense: Kenna Swift
Publisher: Sourcebooks Fire
Summary/ product description:
"Kenna is tired of being "normal". The only thing special about her is that she isn't special at all. Which is frustrating in a world of absolutes. Villains, like the one who killed her father, are bad. Heroes, like her mother and best friend, are good. And Kenna, unlike everyone else around her, is completely ordinary— which she hates.
She's secretly working on an experiment that will land her a place among the Heroes, but when a Villain saves her life during a break-in at her lab, Kenna discovers there's a whole lot of gray area when it comes to good and evil and who she can trust.. After all…not all strength comes from superpowers."
My Review:

Powerless is superheroes, supervillains, and those who fit in neither category. Kenna is powerless, an ordinary. Her mother is a scientist who works for the heroes and her father was a superhero and now is dead. When a group of villains break into her mother's lab, Kenna fights back. These villains don't seem as evil as Kenna's been told, though. They don't kill her and one tried to wipe her memory. It doesn't work because of Kenna's secret. She's immune to superpower because a serum that her mother created for her to take.
Kenna meets Draven, a villain who actually wants to the right things. He's the one with the memory power. He doesn't want Kenna to get hurt. Kenna finds him very hot and attractive. Draven is the love interest of this story. There are other Villians: Dante, who wants to rescue his twin Deacon from the heroes' labs. Nitro, who has energy blasting powers. Quake is Nitro's brother. Kenna's best friend, Rebel, is the daughter of the president of the heroes' organization, and she has telekinesis. She's the girlfriend of a villain. Jeremy, another hero, is a technopath.
This story is full of action and awesome superpowers. It's fun like all of Tera's books. There's humor and bickering and well-developed, interesting characters. There are twists you will never see coming, maybe. I mean, I saw them coming. Some may be obvious, but I'm happy when I'm right so I don't mind. I'm so excited to read the sequel. I'm happy this isn't a standalone.
I recommend this book to those who enjoyed V is For Villain by Peter Moore, Illusive by Emily Llyod-Jones, Blackout by Robison Wells, Shatter Me by Tahereh Mafi, Red Queen by Victoria Avyard, The Young Elite by Marie Lu, or anything superhero-related. Also fans of Tera Lynn Childs's Sweet Venom series.
Cover Art Review: I love the way the title looks and how it's sideways. I also like the spark and the eye. Eyes are overused on covers, but this one is pretty interesting. It reminds me of the cover of Crash by Lisa McMann, though.