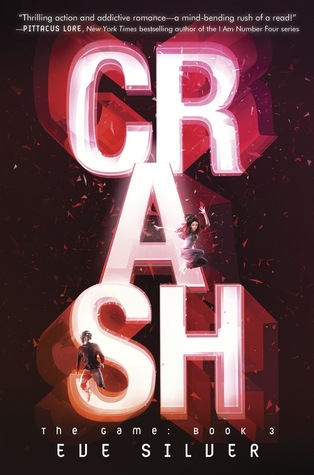 Series: The Game Trilogy (bk. 3)
Subjects: action, adventure, aliens, extraterrestrials, fighting, games, survival
Setting: Rochester, New York
POV/Tense: 1st person POV, present tense: Miki Jones
Publisher: HarperTeen: Katherine Tegan
Summary/ product description:
"A thrilling action/suspense novel for fans of The Fifth Wave about contemporary teens pulled in and out of an alternate reality where battling aliens is more than a game—it's life and death.
Miki's life is falling apart around her. Her dad and best friend are lying in the hospital. The Game is glitching, making missions more frequent and more deadly. And someone close to her is waiting for the right moment to betray her.
Miki feels like she's hanging on by a thread and the only thing keeping her tethered is Jackson's hand in hers. Yet telling him how much she needs him, how much she loves him, feels like the biggest challenge of all. And if Miki really wants the missions to end for everyone, she'll have to let go and be ready to fight when the walls between the Game and reality come crashing down. Because if there's one thing she's learned, it's that she's got a whole lot left to lose.
Crash is the pulse-pounding conclusion to the Game trilogy fans won't want to miss."
My Review:

Crash is the finale to The Game Trilogy. What started in Rush, continued in Push, now end in Crash. Everything crashes together. Miki, Jackson and their team are pulled into the game once again. Things are acting strange inside the game. Lagging and pixilation and things happening out of order. Once again Miki meets with Lizzie, Jackson supposedly dead older sister. She was caught in the game when she died. Lizzie says the game isn't what it seems. That the Committee are not who they say they are and that the Drau might not be the enemy. There's a lot more to the game than killing aliens to save the human race. I just love the twist/truth about the game. It's something I suspected, but it's still interesting. To avoid spoilers, I will just say read it and find out.
I love the character still. Jackson is amazing and will be one of my favorite YA guys, along with Tuck from Unearthly and Sam from Shiver. Jackson is Mr. Sexy, smirky, cocky and truly caring even when he acts like he doesn't care. He feels guilty for Lizzie's death, so that's why he acts like a a-hole sometimes. He's sarcastic and funny and he knows how to crack Miki's serious attitude. Miki likes to be in control all the time. She's had a lot of grief with her mother dying, but Jackson makes her feel happy. Luka is pretty interesting in a guy-friend way, and so is Tyrone, though he and Miki only see each other in the game.
I'd put this series right up there with The 5th Wave by Rick Yancey and The Maze Runner by James Dashner. This series in unique and you should read it if you haven't. I love the sci-fi elements. The aliens are interesting and different. They remind me of the angels in Angele Burn by L.A. Weatherly. Also kind of like In the After by Dimitria Lunetta. There's action and and gaming stuff, so it's like Eye of Minds by James Dashner too. I'm going to miss this series. I hope the author has something else in the works.
Cover Art Review: Why is it not metallic like the previous books? Glossy is boring. The cover design itself is amazing as always.