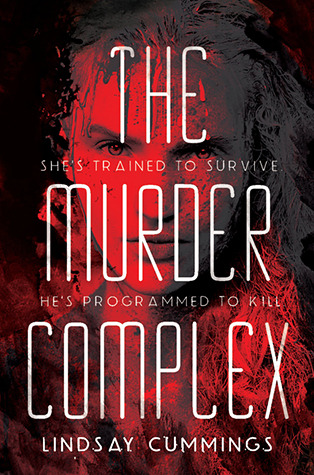 Series: The Murder Complex (bk. 1)
Genera(s): Dystopian Sci-fi/Thriller
Subjects: murder, death, love, mystery, action, assassins
Setting: in the future, in Florida, near the everglades in a place called the Shallows, in June
POV/Tense: 1st person POV, present tense, rotating between Meadow and Zephyr
HC/PB: Hardcover and now in Paperback
Publisher: HarperTeen: Greenwillow
Summary/ product description:
"An action-packed, blood-soaked, futuristic debut thriller set in a world where the murder rate is higher than the birthrate. For fans of Moira Young's Dust Lands series, La Femme Nikita, and the movie Hanna.
Meadow Woodson, a fifteen-year-old girl who has been trained by her father to fight, to kill, and to survive in any situation, lives with her family on a houseboat in Florida. The state is controlled by The Murder Complex, an organization that tracks the population with precision.
The plot starts to thicken when Meadow meets Zephyr James, who is—although he doesn't know it—one of the MC's programmed assassins. Is their meeting a coincidence? Destiny? Or part of a terrifying strategy? And will Zephyr keep Meadow from discovering the haunting truth about her family?
Action-packed, blood-soaked, and chilling, this is a dark and compelling debut novel by Lindsay Cummings."
My Review:

The Murder Complex is a bloody story filled with action. It's a fast-paced thrill ride. It's set in Florida, in the everglades. Meadow, the main character, lives in a boathouse with her family. It's not a setting that I've read before in Dystopian. The story alternates between Meadow and Zephyr's point of views. Meadow is very badass and was trained by her father. Zephyr seems kind of too-nice, but he's got a dark secret, some of which he doesn't even know.
This story is full of murder and horrible event, sometimes gruesome. I wouldn't recommend it to the younger kids. This book is bloodier than the Hunger Games. Like Katniss, Meadow has a younger sister that she care for: Peri. Meadow's mother is dead. Meadow's older brother doesn't have a job because he didn't pass his trial. Meadow's dad is a fisherman.
The world building is scary. People get murdered daily in the Shallow. The murder rate is higher than the death rate. Anyone could be next. People kill for survival reasons as well. Everyone must know self-defense. There's the government called the Initiative that set four rules for the people within the perimeter. If not followed they could be killed. There's as The Murder Complex, the organization behind the murders. Not all the murders are random. There's a deep mystery behind the murder complex that could be linked to both Meadow and Zephyr past.
I recommend this to fans of Divergent, The Hunger Games, Legend and other action-packed YA dystopian book about survival.
Cover Art Review: Bloody looking. I thought that was a drawing and not a photo, but it's a photo and it's been photoshopped in some way. I like the cover, but don't love it. Face covers are so overdone.