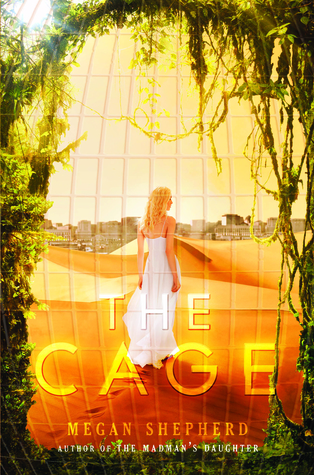 Genera(s): Dystopian Sci-fi
Subjects: aliens, extraterrestrials, psychic ability,
Setting: In a alien zoo, or enclosure with various environments
POV/Tense: 3rd person POV limited and past tense, rotating between the human characters: Cora (mainly), Lucky, Rolf, Nok, Leon and Mali
Publisher: HarperTeen: Balzer + Bray
Summary/ product description:
"The Maze Runner meets Scott Westerfeld in this gripping new series about teens held captive in a human zoo by an otherworldly race. From Megan Shepherd, the acclaimed author of The Madman's Daughter trilogy.
When Cora Mason wakes in a desert, she doesn't know where she is or who put her there. As she explores, she finds an impossible mix of environments—tundra next to desert, farm next to jungle, and a strangely empty town cobbled together from different cultures—all watched over by eerie black windows. And she isn't alone.
Four other teenagers have also been taken: a beautiful model, a tattooed smuggler, a secretive genius, and an army brat who seems to know too much about Cora's past. None of them have a clue as to what happened, and all of them have secrets. As the unlikely group struggles for leadership, they slowly start to trust each other. But when their mysterious jailer—a handsome young guard called Cassian—appears, they realize that their captivity is more terrifying than they could ever imagine: Their captors aren't from Earth. And they have taken the five teenagers for an otherworldly zoo—where the exhibits are humans.
As a forbidden attraction develops between Cora and Cassian, she realizes that her best chance of escape might be in the arms of her own jailer—though that would mean leaving the others behind. Can Cora manage to save herself and her companions? And if so . . . what world lies beyond the walls of their cage?"
My Review:

From the author that wrote a historical fiction book that I actually enjoyed, comes a sci-fi story about an alien zoo. Megan Shepard is a genius at writing unique and interesting characters. She knows how to make thrilling mysteries within multiple generas. I was really excited when I heard about The Cage. It sounded really unique, and it is.
The alien zoo isn't really a zoo in the normal sense. It's an environment with different biomes. 6 teens were picked to live in this environment: Cora, Lucky, Leon, Rolf, Nok and another girl who died right away. Cora is the main character, and she's the daughter of a Virginia Senator. Lucky is also from Virginia, but had moved to Montana. Leon is from New Zealand, Rolf from Norway, but went to school in London. Nok if Thai, but she moved to London to be a model. All these characters have a trait that the aliens desired, and that is why they were taken.
There are 8 biomes: desert, tundra, mountains, ocean, farm, swamp, jungle, and grasslands. There's also a town with various building, such as a candy shop, toy store, diner and more.

There are games in the buildings that they can earn tokens to buy stuff with, much like a fun zone/arcade. The teens only asked to stay healthy, play the games, and procreate.
I've read quite a few books about aliens lately, but none of them had full-on aliens. Series like The 5th Wave, Scan and The Rules had aliens that wear pretty much human, and The Cage has aliens that look different from humans. The main ones are called the kindred. They are humanoid, but have black eyes, metallic bronze skin and telepathic abilities. One kindred, their Caretaker (like zookeeper) named Cassian actually seems to care about human more than the rest. He sees them as more rather than lesser species. Cassian and Cora develop a forbidden romance because she was meant for Lucky.
I enjoyed the romance and the complexities of this story. There's a lot of sci-fi elements that I enjoyed. There's also a deep mystery. Why are the teens really there? What happened to Earth. Time seems to move strangely. Weird stuff happened. There are black viewing windows on wall that are not thick enough for a room in which the Kindred could watch them. Optical illusions of space. Just strange stuff going on. And as always with anything by Megan Shepherd, there's a huge plot twist at the end! I recommend this book to fans of The 5th Wave, Gone by Michael Grant, and The 100 by Kass Morgan.
Cover Art Review: I like the cover, but wish it was metallic and had more embossing than just the title.