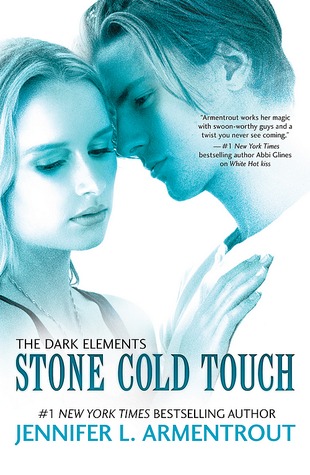 Series: The Dark Elements Saga (bk. 2)
Genera(s): Paranormal Romance/Urban Fantasy
Subjects: supernatural, gargoyles, demons, love, good vs. evil
POV/Tense: 1st person POV, past tense: Layla
Publisher: Harlequin Teen
Summary/ product description:
"Every touch has its price
Layla Shaw is trying to pick up the pieces of her shattered life—no easy task for a seventeen-year-old who's pretty sure things can't get worse. Her impossibly gorgeous best friend, Zayne, is forever off-limits thanks to the mysterious powers of her soul-stealing kiss. The Warden clan that has always protected her is suddenly keeping dangerous secrets. And she can barely think about Roth, the wickedly hot demon prince who understood her in ways no one else could.
But sometimes rock bottom is only the beginning. Because suddenly Layla's powers begin to evolve, and she's offered a tantalizing taste of what has always been forbidden. Then, when she least expects it, Roth returns, bringing news that could change her world forever. She's finally getting what she always wanted, but with hell literally breaking loose and the body count adding up, the price may be higher than Layla is willing to pay…"
My Review:

I have no words for how amazing this sequel is. I just loved it so much. I love the characters, hot guys, the romance, the paranormal mythology and well written plot. This is my favorite kind of paranormal romance. Heroines with special powers that make them kick-ass and hot guys to pine for. This series is fun and entertaining and sexy. It's just so much.
So here's my spoiler free explanation of what occurs in the book: Layla's ability to see souls/auras disappears and crazy things start happening at her school. When Roth suddenly shows up again in her life, he's acting like what they had meant nothing, and making smart-ass comments. Roth thinks a Lilan has been born with Layla's and Lilith Blood and is causing the strange occurrences at school. Zayne loves Layla, but Layla won't let herself get close to him because she's afraid she's take his soul. Layla still has Bambi, a snake tattoo familiar, on her and it kind of weirds Zayne out, but he accepts it. Even if Zayne and Layla can't kiss, doesn't mean they can't be together in other ways, or so Zayne hopes.
Roth tries to pull her back to him again and still has a habit of using sexual innuendos. He's back in school and makes her skip and takes her someplace where something happens. And then more crazy stuff happens as they try to discover who the Lilan is. The very end of the book is epic because I knew the answer within the first half of the book. Yay me, and my ability to predict stuff that happens in books.
Layla transforms into her gargoyle-demon hybrid forma a few times. I really wish I could picture it. Someone needs to provide us with the character concept art. I want to make fanart!!! I love that this series has creatures that are rarely seen in Paranormal Romance. Gargoyles are made out to be a kind of angelic being, like the Nephilim or Watchers. They're called Wardens. I love both Roth and Zayne. I would have a hard time choosing between them if I was Layla, but I guess I'd go with Zayne because he's not a demon. Roth is not that bad for a demon. He's just kind of annoying. I like him in the way that I like Damon Salvatore from the Vampire Diaries, Patch form Hush, Hush, or Warner for Shatter Me. Hot bad boys that can show they have a good side, going against their dark nature. I just want to make them good.
I have only read one other in a different series from this author, and that was Half-Blood (which was too much of a Vampire Academy knock-off for me). I want to read Obsidian. I'm sure that that Daemon has something in common with the guys in this book. I recommend this book series to those who enjoyed any of the following books/series: The Dark Light Series by Darynda Jones, The Beautiful Ashes by Jeanine Frost, Lailah by Niki Kelly, Embrace by Jessica Shirvington, and other books about angels, demons and gargoyles.
Cover Art Review: Layla and Zaynes are on the cover this time. The guy model is very hot. I love the opal/iridescent paper used for the cover.