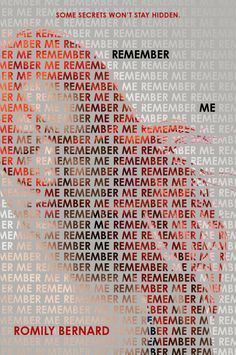 Genera: Suspense/Thriller/Realistic/ Contemporary Romance
Subjects: hackers, computers, high school, mystery, murder, crime
Setting: Peachtree, Georgia
POV/Tense: 1st person POV, present tense: Wick Tate
Summary/ product description:
"In the sequel to Find Me, Wick Tate, sarcastic teen hacker, is back and once again dealing with criminals and corrupt cops…and a brooding new love interest. Will Wick persevere when some secrets refuse to stay hidden?
Wick had thought her troubles were over.
But she should've known better.
Not only is she embroiled in a new murder case, which starts with a body with "Remember Me" carved into it and doesn't stop there, but she also discovers new evidence surrounding her mother's suicide…which leads her right back to her imprisoned deadbeat dad. And she has to deal with her flirty new hacker friend, Milo, sniffing around—which her boyfriend, Griff, isn't too happy about.
The pressure might be too much as secrets—including Wick's own—climb to the surface.
Remember Me is an edge-of-your-seat thrilling read that'll have readers turning the pages at lightning speed!"
My Review:

Remember Me, the sequel to Find Me, is an awesome thrill ride full of hacking, mystery and murder. This series is one of the few realistic fiction series that I actually enjoyed. It's like something out of a movie or TV show. Wick Tate is a funny and sarcastic heroine. She like all you favorite hacker/techie characters combined. In the first book her hair was red (Like Charlie on Supernatural) but now it's blond. She and her sister Lily have been official adopted by Bren. She's got a new life and an awesome boyfriend named Griff. Things are going well…sort of.
Carson, that blackmailing cop has got another case for her to investigate with her hacking skills. Something about Judge Bay, who he thinks is a dirty judge. Wick goes to the judge's costume party and a woman there is murdered and there's message on the body saying REMEMBER ME. Wick continues to look into Bay's past and start helping his son with a school project. She's also looking into the murder.
We meet a new character name Milo, who's the best "builder" and creates awesome tech. There's some romance and fight and stuff happens. Wick's got a lot going on and her sister and Bren could be in danger. Also she's getting these anonymous DVD of her mother being interviewed by cops. Her mother died jumping off a roof, so Wick hope that she can find out why.
This series is kind of cyber-punk, but mostly and story of suspense and a thrilling mystery. It'll keep you guessing who the killer is. It's also got southern style, since it's set in Georgia, near Atlanta. Awesome guys, and kickass heroines. It's a real page-turner.
Cover Art Review: I wish that this cover wasn't gray. Black or white would have given it more contrast so the image that the test is over could stand out better. It works well when it's really small.