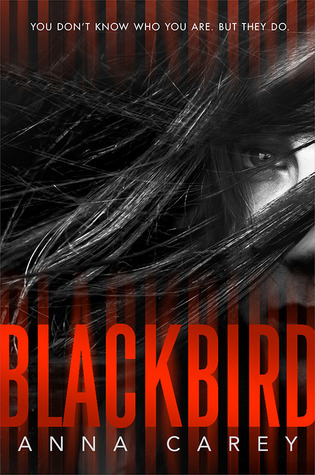 Series: Blackbird Duology (bk. 1)
Genera(s): Mystery Thriller/Realistic Fiction
Subjects: suspense, action, memory, amnesia, murder, identity,
Setting: Los Angelus, California
POV/Tense: 2nd person POV, present tense: a girl with amnesia
Summary/ product description:
"This twisty, breathless cat-and-mouse thrill ride, told in the second person, follows a girl with amnesia in present-day Los Angeles who is being pursued by mysterious and terrifying assailants.
A girl wakes up on the train tracks, a subway car barreling down on her. With only minutes to react, she hunches down and the train speeds over her. She doesn't remember her name, where she is, or how she got there. She has a tattoo on the inside of her right wrist of a blackbird inside a box, letters and numbers printed just below: FNV02198. There is only one thing she knows for sure: people are trying to kill her.
On the run for her life, she tries to untangle who she is and what happened to the girl she used to be. Nothing and no one are what they appear to be. But the truth is more disturbing than she ever imagined.
The Maze Runner series meets Code Name Verity, Blackbird is relentless and action-packed, filled with surprising twists."
My Review: Blackbird is a fast paced book filled with non-stop action. The story went where I did not expect it, and I'm almost disappointed that it's not sci-fi, but it did have a Born Identity feel to it. Our main character has no memory of her life. She doesn't know her name. She starts calling herself Sunny when a guy at a supermarket asks her. This guy, Ben, helps her when she tells him about her predicament.

There's a slight romance with Ben. Sunny/She's been framed for robbery and is being hunted down. There is a lot of mystery and action scenes. It keeps you wondering what's going on and who's in on it. Who can she trust?
The one extremely unique thing about this book is that it's written in the 2nd person (and present tense). I have not read a 2nd person book since elementary school, and that was a choose-your-own-adventure book. I'm surprised that all the You's didn't annoy me. It read pretty well. It puts you in the character's shoes. This book would not work well in 3rd person. It would have been okay in the 1st person. Using 2nd person was a big risk for the author.
Because this is a duology (2-book series), it ended with a bit of a cliff-hanger. We find out a little about the main character's past, but we still don't have a name and nothing is really resolved. I kind of wish it was just one longer standalone. I like short books, but sometimes a book is just too short.
I want to relate this book to other things, and I hope they're not spoilery. It made me think of The Purge: Anarchy, and also Arrow. And then The Forsaken series by Lisa M. Stasse. Also if you like action thrillers in YA, like Don't Turn Around by Michelle Gagnon or Find Me by Romily Bernard, then give Blackbird a shot.
Cover Art Review: I love the title treatment and the girl photo. I wish it were metallic, though.