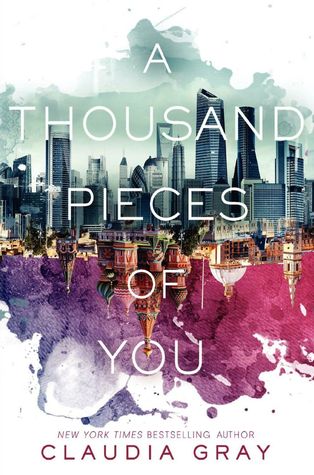 Series: Firebird Trilogy (bk. 1)
Genera(s): Sci-fi/Romance
Subjects: multiverse, parallel universes, science, love
Setting: California, England, Russia, and the Ocean
POV/Tense: 1st person POV, present tense: Marguerite Caine
Summary/ product description:
"Every Day meets Cloud Atlas in this heart-racing, space- and time-bending, epic new trilogy from New York Times bestselling author Claudia Gray.
Marguerite Caine's physicist parents are known for their radical scientific achievements. Their most astonishing invention: the Firebird, which allows users to jump into parallel universes, some vastly altered from our own. But when Marguerite's father is murdered, the killer—her parent's handsome and enigmatic assistant Paul—escapes into another dimension before the law can touch him.
Marguerite can't let the man who destroyed her family go free, and she races after Paul through different universes, where their lives entangle in increasingly familiar ways. With each encounter she begins to question Paul's guilt—and her own heart. Soon she discovers the truth behind her father's death is more sinister than she ever could have imagined.
A Thousand Pieces of You explores a reality where we witness the countless other lives we might lead in an amazingly intricate multiverse, and ask whether, amid infinite possibilities, one love can endure."
My Review:

I've been anticipating this book for a long long time and now I finally read it. I remember at Claudia Gray's signing for Spellcaster at Anderson's Bookshop, when she mentioned that she was writing a series called Firebird. I thought it sounded awesome and couldn't wait and now that I read it I can say that it definitely was awesome.
This pretty cover is not some disguise for a book that's no good. The book inside is just as wonderful as it is on the outside. It's sci-fi and has multiple settings in different versions of the world. This is pretty much the best YA book about parallel universes that I've ever read. It's kind of like Unremembered and Unforgotten by Jessica Brody, except, instead of time travel, it's parallel worlds.
It starts out with Marguerite in London, which seems to be futuristic. Marguerite is from a world almost just like ours, and from California. Apparently she's living in London in this other universe and has a British accent. Marguerite paints portraits in her universe, but in this world there no art supplies in her apartment. Theo is in Boston and has to travel to her. They are tracking down Paul who may have killed Marguerite's father back in their world. Claudia Gray really knows how to write love interests and heroines. I loved Bianca, Lucas and Balthazar, but now I get to love Marguerite, Theo and Paul. Theo is somewhat cocky and funny, while Paul in kind of intense and hard to understand. Both are very smart guys.
Later on in the book Marguerite is in a universe in which she's a Grand Duchess of Russia (her mom is descended from Russian nobility). This world it's less advanced and like the early 1900s instead of 2014. I really enjoyed the Russian setting. It reminded me of The Gathering Storm by Robin Bridges. St. Petersburg, Russia at Christmastime is a perfect setting for this time of year. I'm not a fan of historical fiction, but this part of the book feel more fantastical that historical.
This book is very complex and entertaining. I really enjoyed it and can't wait for more. I recommend it to those who enjoyed: Parallel by Lauren Miller, Tandem by Anna Jarzeb, 3:59 by Gretchen McNeil, The False Memory Series by Dan Krokos, Unraveling and Unbreakable by Elizabeth Norris, Unremembered and Unforgotten by Jessica Brody, and other parallel universe book, and The Gathering Storm by Robin Bridges, which is set in Russia.
Cover Art Review: I love the use of watercolor texture and the city skylines. This is my favorite cover of the year and even won a cover love award on EpicReads. It's so gorgeous that I wanted to buy it so bad, but I didn't because I had already got it from the library. It's just the most enticing cover ever.