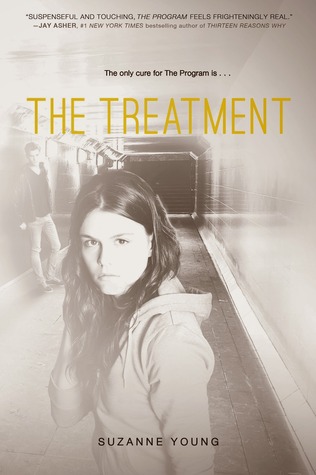 Series: The Program Duology (bk. 2)
Genera(s): Near-future Dystopian Sci-fi/Romance/Thriller
Subjects: brainwashing, death, love, memory, mental disorders, suicide, memory
Setting: The Western US: Oregon, Idaho, Utah, Colorado, California
POV/Tense: 1st person POV, present tense: Sloane
Publisher: Simon & Schuster
Summary/ product description:
"Can Sloane and James survive the lies and secrets surrounding them, or will The Program claim them in the end? Find out in this sequel to The Program, which Publishers Weekly called "chilling and suspenseful."
How do you stop an epidemic?
Sloane and James are on the run after barely surviving the suicide epidemic and The Program. But they're not out of danger. Huge pieces of their memories are still missing, and although Sloane and James have found their way back to each other, The Program isn't ready to let them go.
Escaping with a group of troubled rebels, Sloane and James will have to figure out who they can trust, and how to take down The Program. But for as far as they've come, there's still a lot Sloane and James can't remember. The key to unlocking their past lies with the Treatment—a pill that can bring back forgotten memories, but at a high cost. And there's only one dose.
Ultimately when the stakes are at their highest, can Sloane and James survive the many lies and secrets surrounding them, or will The Program claim them in the end?"
My Review:

When I first started reading The Treatment, I didn't realize that is was the final book in a duology (2 book series) rather than a trilogy. I really enjoyed The Program. I found is thrilling and realistically scary. The story is set in the near-future in which suicide has become and epidemic. Sloane and James went through The Program that took away the memories of their pasts, and are on the run from it now.
I really love Sloane and James's relationship. James is really sweet and funny. There are so many moments where I can perfectly picture a guy with a cute smirk saying these things. My favorite was when he said their was a billboard with his face on it that caused a traffic jam because his good looks, and that he wandered lost for days and found out his spirit animal was a rooster. I cracked up at that. He acts cocky, but it's all playful teasing and keeps things light. Sloane and him banter and act romantic together. Then there's Michael Realm, the other love interest that completes this love triangle. His was pretty good in The Programs, helping Sloane out, but he starts to seems like a broody jerk at times in The Treatment
The world building was based off the modern world, but with the added hype to a suicide epidemic. The Program is the reason why suicides are happening all the time. People rather kill themselves that lose their memories or be tortured. I enjoyed the part on the story that took place in The Program hospital/facility. The story becomes very fast paced and scary. Sloane may seem like she in a hopeless situation, but she able to fight. Handlers, nurses and pills. They say that she's sick, but she's not. If mental illness is ever treated this way, it would be horrifying.
The story was able to wrap up the story tightly. So, no third book. I am hoping for a short story or novella. I do not want to spoil what happens in the book, but it there's a lot of travel, being on the run. James being jealous of Realms time with Sloane in The Program. There's The Treatment, which is an orange pill that can give you back your memories. Sloane ends up back in the program. A lot of exciting stuff happens, and I happy that I wasn't bored with it. Usually you get a sequel slump, but since this is only a duology, that wasn't the case. I recommend this to fans of Delirium by Lauren Oliver.
Cover Art Review: The outside cover isn't that interesting, but under the jacket there's a photos of an orange pill in a silver tray and reflection of Sloane and James. I find that more interesting.