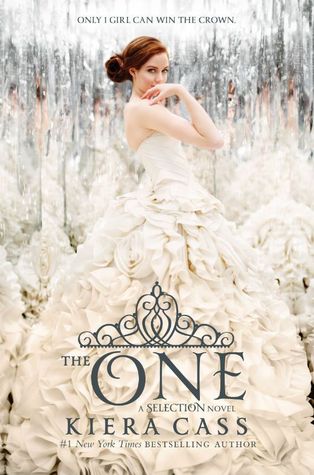 Series: The Selection (bk. 3)
Genera(s): Dystopian sci-fi/Romance
Subjects: contests, love, royalty, caste systems, politics, resistance to government
Setting: Los Angeles, California
POV/Tense: 1st person POV, past tense: America Singer
Summary/ product description:
"The Selection changed the lives of thirty-five girls forever. And now, the time has come for one winner to be chosen.
America never dreamed she would find herself anywhere close to the crown—or to Prince Maxon's heart. But as the competition approaches its end and the threats outside the palace walls grow more vicious, America realizes just how much she stands to lose—and how hard she'll have to fight for the future she wants.
From the very first page of The Selection, this #1 New York Times bestselling series has captured readers' hearts and swept them away on a captivating journey... Now, in The One, Kiera Cass delivers a satisfying and unforgettable conclusion that will keep readers sighing over this electrifying fairy-tale long after the final page is turned."
My Review:

Can't believe it's over!!! The One was romantic as ever and full of awesome. Kiera really did a great job at ending the series. Some crazy stuff happened along the way, but I am pretty satisfied with how it ended (unlike some other dystopian series that I loved).
The One may have started out a bit slow, except the rebel attack in the opening scene. There was America's desperate attempt to woo Maxon in a Celeste like way and Maxon laughing at said attempt. Maxon clearly loves America for who she is, but he has yet to say "I love you" to America.
Then there's Aspen who America used to be in love with. She hasn't told Maxon about Aspen, and Aspen has been her guard since the first book. There's secrets and temporary break up, but otherwise there's some really awesome, sweet romance. And really good kissing scenes. It doesn't get inappropriate, though.
The girls left in the Selection start to open up about their relationship with Maxon so far. Kriss is the only other girl who has feelings for Maxon. Elise is only concerned with duty and honor. Celeste just wants the fame that goes with being a princess. Celeste becomes less hate-able. She may be manipulative, but she's tough and motivated.
I like that we got to find out more about the rebels and there was more action than the last two books. America really throws herself into bad situation sometimes. Her spontaneous actions sometimes cause bad things to happen, but they also cause some very good things. America is very relatable that way.
I'm glad I read The One right away instead of waiting. I love the characters and the world-building and the romance of this whole series. It's one of my favorite dystopian series, after Shatter Me and Divergent. It's not completely over since Kiera's writing a prequel e-novella about Queen Amberly's Selection. Kiera also mentioned another dystopian romance series about children being sold. Can't wait.
Cover Art Review: I love that dress. It's like white roses or something. The tinsel/mirror background is the same as the other books, but brighter. I just love these covers.