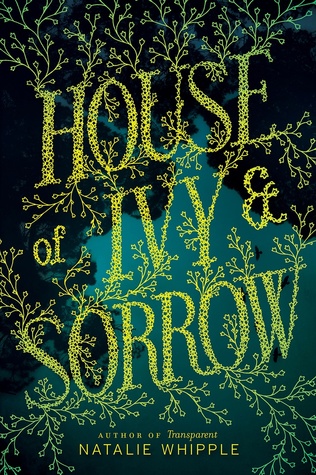 Genera(s): Paranormal Romance
Subjects: witches, magic, supernatural, curses
Setting: Willow's End, Iowa
POV/Tense: 1st person POV, present tense: Josephine
Summary/ product description:
"Josephine Hemlock has spent the last 10 years hiding from the Curse that killed her mother. But when a mysterious man arrives at her ivy-covered, magic-fortified home, it's clear her mother's killer has finally come to destroy the rest of the Hemlock bloodline. Before Jo can even think about fighting back, she must figure out who she's fighting in the first place. The more truth Jo uncovers, the deeper she falls into witchcraft darker than she ever imagined. Trapped and running out of time, she begins to wonder if the very Curse that killed her mother is the only way to save everyone she loves."
My Review:

This was a pretty good book. It's a standalone, and I think it does a good job of fitting a complete story into a single book. I can imagine that a second book would be possible, but it ended well. This book is fun and creepy at the same time. It's not horror, but it is paranormal with some gruesome magic. Magic that requires things like animal eyeballs, or ripping off your own finger nail. Really disgusting, but the strangeness makes it more genuine. More witchy.
The story is set in Iowa, which is a state that not many books are set in (Slide by Jill Hathaway and Ashfall by Mike Mullin are). There are a lot of farms, and even a cute farm boy named Winn. Winn seems too good to be true, but really enjoys farming. He's not the typical athletic love-interest. Willow's End is a very small town, and he is considered "the cutest boy around". Josephine, the narrator, is similar to other characters, yet different. She reminds me of Lena from Beautiful Creature, but more humorous. I love how she describes magic.
The story is fun, but it has substance. The plot seems steady, but there's a lot of focus on the romance near the beginning. Then it's all about the curse and why there men with magic. Till now they only knew woman witches. There's mystery and secrets that Josephine must uncover. There's this mysterious guy named Levi who could possibly be evil, but claims that he can help her. The story leads up to a stunning conclusion.
I recommend this to fans of Beautiful Creature, Texas Goth by Rosemary Clement-Moore, and other witchy stories. Also, if you liked Transparent by Natalie Whipple, this book also has a witty, funny heroine with abilities.
Cover Art Review: I love the hand rendered title. The texture of it is awesome. It's playful and eye-catching.