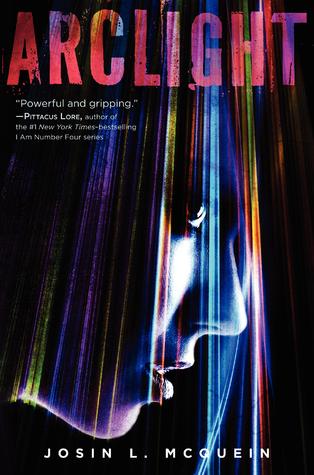 Genera(s): Dystopian Sci-fi
Subjects: survival, mystery, post-apocalyptic, nanotechnology
Setting: Somewhere in the eastern USA.
POV/Tense: 1st person POV, present tense: Marina
HC/PB: Hardcover and now in Paperback
Publisher: HarperTeen: Greenwillow
Summary/ product description:
"No one crosses the wall of light . . . except for one girl who doesn't remember who she is, where she came from, or how she survived. A harrowing, powerful debut thriller about finding yourself and protecting your future—no matter how short and uncertain it may be.
The Arclight is the last defense. The Fade can't get in. Outside the Arclight's border of high-powered beams is the Dark. And between the Light and the Dark is the Grey, a narrow, barren no-man's-land. That's where the rescue team finds Marina, a lone teenage girl with no memory of the horrors she faced or the family she lost. Marina is the only person who has ever survived an encounter with the Fade. She's the first hope humanity has had in generations, but she could also be the catalyst for their final destruction. Because the Fade will stop at nothing to get her back. Marina knows it. Tobin, who's determined to take his revenge on the Fade, knows it. Anne-Marie, who just wishes it were all over, knows it.
When one of the Fade infiltrates the Arclight and Marina recognizes it, she will begin to unlock secrets she didn't even know she had. Who will Marina become? Who can she never be again?"
My Review:

I didn't know what to expect going into Arclight. I was guessing aliens and a domed society or something like that. It was so different. I love how different and unexpected it was. The idea behind it is very unique. The story did start of kind of confusing and slow, but about a 3rd of the way through the book we get to see what Fades are and the plot really picks up and doesn't stop.
The main character could not remember her past before the Arclight. Her memories were gone, possibly from entering the Dark. Marina is pale skinned with whitish hair and pale blue eyes. She looks unusual. Everyone thinks she's Fade-proof because she survived the Dark. They think she's responsible for the deaths of the people who brought her to the Arclight. Tobin used to blame her for the loss of his father, but now wants to make up for the problems he's caused her. Marina and Tobin start developing a relationship. There's some really romantic scenes, and kissing.
When a Fade is captured, they discover Fades look like people, even though they can blend into things and don't talk so much a show thing telepathically. The world building is really unique and takes technology to whole new level. It's actually kind of scary and strange. I don't want to give too much away, but some of it really did surprise me. Later on, I totally guessed correctly who Marine actually was. Authors tend to foreshadow things. It was pretty obvious, but if you were surprised about that "twist," the awesome.
I enjoyed this book and don't know what to compare it to. It's kind of like some zombie books, but also like paranormal books. I'd say it's similar to In The After by Demitria Lunetta (another book that I though was about aliens at first, but was wrong). Maybe the 5th Wave, which I still need to read. Arclight is a dystopian book, so if you like dystopian fiction, and want something different that the run-of-mill zombie apocalypse or oppressive government, then you should try this.
Cover Art Review: I love the rainbow effect on the hard cover jacket. It's beautiful and prismatic.