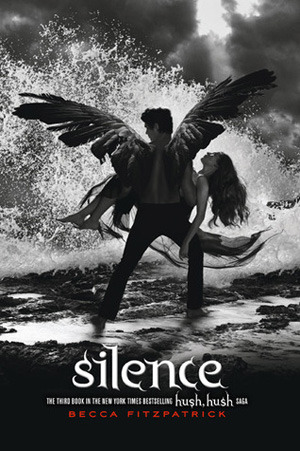 Series: Hush, Hush (bk. 3)
Genera(s): Paranormal Romance
Subjects: supernatural, angels, mystery, love, memory, amnesia
Setting: Cold Water, Maine
POV/Tense: 1st person, past tense: Nora Grey
HC/PB: Hardcover originally, now Paperback
Publisher: Simon & Schuster
Summary/ product description:
"WHEN SILENCE IS ALL THAT'S LEFT, CAN THE TRUTH FINALLY BE HEARD?
Nora Grey can't remember the past five months of her life. After the initial shock of waking up in a cemetery and being told that she has been missing for weeks - with no one knowing where she was or who she was with - she tried to get her life back on track. Go to school, hang out with her best friend, Vee, and dodge mom's creepy new boyfriend.
But there is this voice in the back of her head, an idea that she can almost reach out and touch. Visions of angel wings and unearthly creatures that have nothing to do with the life she knows.
And this unshakable feeling that a part of her is missing.
Then Nora crosses paths with a sexy stranger, whom she feels a mesmerizing connection to. He seems to hold all the answers...and her heart. Every minute she spends with him grows more and more intense until she realizes she could be falling in love. Again."
My Review:

I feel like a bad fan. Not because I didn't love the book (I did), but because I waited so long to read this. This is the first time I read the third book, Silence. It's been sitting on my shelf since it came out in 2011. It's an autographed copy. I met the author twice. She's awesome. Now I'm one book away from finish this series once and for all. I can't completely recall what happened previously in Crescendo. I remember Hush, Hush because I have the graphic novel. Since Nora herself can't remember the past five months because of amnesia, I kind of felt like I was figuring things out along with her.
I think the amnesia was an interesting choice for this book. It almost felt like a first book in a series. I'm not saying you shouldn't read the first 2 books first. I still LOVE Patch. Nora couldn't remember him. She actually runs into him a few times. He goes by a different name and is very secretive. Patch is so sexy. He's one of my favorite male love interest characters of all time. He makes my heart flutter a little.
There's just so much awesomeness in this book. I love the angel and nephilim stuff. The mythology, the powers. I love the setting. Maine definitely sets a great mood for a story like this. I loved the ending too. Nora is so badass now. She's not helpless and I don't think she's a Bella knock-off. Patch is definitely way better and cooler than Edward. Now I'm going to read Finale. If you never read Hush, Hush, you are missing out. Also I recommend anything by Becca Fitzpatrick. She really makes thrilling stories.
Cover Art Review: I've always loved the covers in this series. I love the model who's supposed to be Patch.