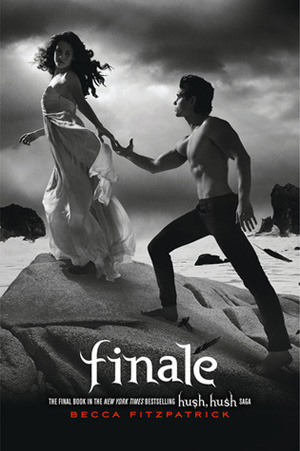 Series: Hush, Hush (bk. 4)
Genera(s): Paranormal Romance
Subjects: supernatural, angels, mystery, love
Setting: Cold Water, Maine
POV/Tense: 1st person, past tense: Nora Grey
HC/PB: Hardcover originally, now Paperback
Publisher: Simon & Schuster
Summary/ product description:
Nora and Patch thought their troubles were behind them. Hank is gone and they should be able to put his ugly vendetta to rest. But in Hank's absence, Nora has become the unwitting head of the Nephilim and must finish what Hank began. Which ultimately means destroying the fallen angels - destroying Patch.
Nora will never let that happen, so she and Patch make a plan: lead everyone to believe they have broken up, and work the system from the inside. Nora will convince the Nephilim that they are making a mistake in fighting the fallen angels, and Patch will find out everything he can from the opposing side. They will end this war before it can even begin.
But the best-laid plans often go awry. Nora is put through the paces in her new role and finds herself drawn to an addictive power she never anticipated.
As the battle lines are drawn, Nora and Patch must confront the differences that have always been between them and either choose to ignore them or let them destroy the love they have always fought for."
My Review:

Still feeling horrible for waiting so long to complete this series. What an awesome final book Finale was. It was definitely a grand Finale to remember. IF YOU HAVE NOT READ THE WHOLE SERIES, DO NOT READ THIS REVIEW!!!!!!
Nora became a Nephilim at the end of Silence, and took an oath to lead Hank's Nephilim army. Nora as a Nephilim is so awesome! I did not really think she would become one. I was hoping that she'd get some abilities, but I just never thought the author would make it happen. It made me think of Bella from Twilight becoming a vampire, or Kate in the last book of Amy Plum's Revenant series. It's not like her appearance changed. She's got enhanced strength and speed as well as mind-speak and mind-tricking. Her physical attributes are much weaker than natural born Nephilim, but her mind-tricking is actually much stronger.
I can't get enough of Patch. I'm going to miss him. I want Becca to continue to write awesome male love interests like him. I read Black Ice and Dangerous Lies, both with awesome romances. Patch has truly influenced Becca's other male leads. Nora's definitely one of the best YA paranormal protagonist I've read too.
The chemistry of the romance in this book is the kind that causes people to blush while reading it. It's like Juliet and Warner in Shatter Me (Tahereh Mafi), or Layla and Roth in White Hot Kiss (Jennifer Armentrout). There's a bad-boy love interest that does some questionable thing, but wants to do the right thing and protect and encourage the female lead, which ends up saving him in the end.
If you loved this series like I did, then I definitely recommend series like Fallen (Lauren Kate) and Unearthly (Cynthia Hand). I still need to finish the Fallen series. I love angel books. Before they got popular, I loved them I bought a lot of them and then ended up putting them off. I'm just glad I finally completed this amazing series.