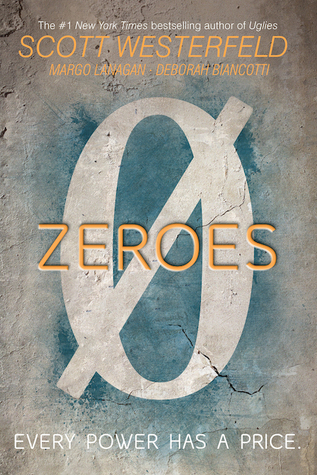 Genera(s): Paranormal/Urban Contemporary Sci-fi
Subjects: superpowers, abilities, criminals
Setting: Cambria, California
POV/Tense: 3rd person POV rotating between 6 characters: Scam (Ethan), Flicker (Riley), Bellwether (Nate), Crash (Chizara), Anonymous (Thibault) and Mob (Kelsie).
Publisher: Simon & Schuster: Simon Pulse
Summary/ product description:
"Don't call them heroes.
But these six Californian teens have powers that set them apart. They can do stuff ordinary people can't.
Take Ethan, a.k.a. Scam. He's got a voice inside him that'll say whatever you want to hear, whether it's true or not. Which is handy, except when it isn't—like when the voice starts gabbing in the middle of a bank robbery. The only people who can help are the other Zeroes, who aren't exactly best friends these days.
Enter Nate, a.k.a. Bellwether, the group's "glorious leader." After Scam's SOS, he pulls the scattered Zeroes back together. But when the rescue blows up in their faces, the Zeroes find themselves propelled into whirlwind encounters with ever more dangerous criminals. And at the heart of the chaos they find Kelsie, who can take a crowd in the palm of her hand and tame it or let it loose as she pleases.
Filled with high-stakes action and drama, Zeroes unites three powerhouse authors for the opening installment of a thrilling new series."
My Review:

Zeroes is a pretty cool book. I didn't know what to expect going into it. It's written by Scott Westerfeld, author of Uglies, and I've met him. There are two co-authors: Margo Lanagan and Deborah Biacotti, who I've never heard of. Zeroes is fresh and fun. It reminds me of other books, but it feels lighter in content. The book it self it kind of long and some parts are slow. I enjoyed it enough. I'll definitely read the sequel now that I know there is one.
The book is written in 3rd person POV rotating between 6 characters that call themselves Zeroes (like heroes, but not). Scam (Ethan) has another voice that he uses to get him out of situations or get him what he wants. It knows things he doesn't know himself. It's almost like another entity possesses him. It's such a unique and odd ability and works better one-on-one. The other characters have a abilities that work best in crowds. Flicker (Riley) is blind but can use the eyes of people around he to see, like remote viewing. She has a twin named Lily who she relies on a lot. Bellwether (Nate), is Latino and has the ability to lead crowds. To pull attention to him, like charisma. Crash (Chizara) can sense connected technology around her and crash it. Anonymous (Thibault) has a mental memory based form of invisibility and can't turn it off. He's easily forgotten when people stop paying attention to him. It's difficult to make people remember him. Mob (Kelsie) can turn a crowd into a single organism that has one mood or goal. Her father is a criminal and she's not part of the Zeroes yet.
The characters are unique an interesting. Well written and developed. My favorites are probably Flicker and Anonymous. They develop a romantic relationship over the course of the book. It reminds me of 50 First Dates because the way Anonymous affects memory. She forgets that they kissed before. I feel so sorry for Anonymous. I feel like he's the most important character, or second most after Ethan whose voice got him in trouble and started the whole plot. Anonymous is cursed to be forgotten and he uses ideas of Zen to get him through. Anonymous is not the first character I've read about with his type of invisibility. There was a character in Shatter Me (Tahereh Mafi) or Glitch (Heather Anasatsiu) or both that had the same issue. There's also Nobody by Jennifer Lynn Barnes and Invisibility by Andrea Cremer.
So If you've enjoyed the Shatter Me series, the Glitch series, Nobody, Invisibility, Transparent by Natalie Whipple, Black Out by Robison Wells, The Darkest Minds trilogy, The Young Elites series, V is for Villain, Powerless by Tera Lynn Childs, or pretty much anything about superpowers, then read Zeroes.
Cover Art Review: Simple. It's perfect.