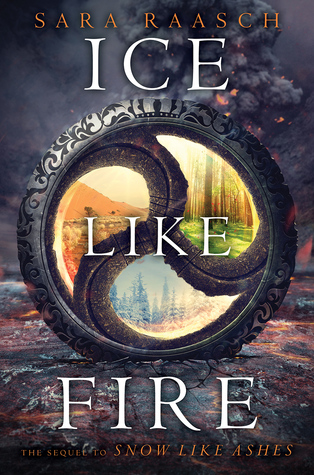 Series: Snow Like Ashes (bk. 2)
Subjects: magic, seasons, winter, royalty, kingdoms, adventure, war, princes and princesses, king and queens, warriors, rebellions, slavery, orphans
Setting: The Kingdoms of Primoria
POV/Tense: 1st person POV, present tense: Meira, and 3rd person: Mather
Publisher: HarperTeen: Balzer & Bray
Summary/ product description:
"It's been three months since the Winterians were freed and Spring's king, Angra, disappeared—thanks largely to the help of Cordell.
Meira just wants her people to be safe. When Cordellan debt forces the Winterians to dig their mines for payment, they unearth something powerful and possibly dangerous: Primoria's lost chasm of magic. Theron sees this find as an opportunity—with this much magic, the world can finally stand against threats like Angra. But Meira fears the danger the chasm poses—the last time the world had access to so much magic, it spawned the Decay. So when the king of Cordell orders the two on a mission across the kingdoms of Primoria to discover the chasm's secrets, Meira plans to use the trip to garner support to keep the chasm shut and Winter safe—even if it means clashing with Theron. But can she do so without endangering the people she loves?
Mather just wants to be free. The horrors inflicted on the Winterians hang fresh and raw in Januari—leaving Winter vulnerable to Cordell's growing oppression. When Meira leaves to search for allies, he decides to take Winter's security into his own hands. Can he rebuild his broken kingdom and protect them from new threats?
As the web of power and deception weaves tighter, Theron fights for magic, Mather fights for freedom—and Meira starts to wonder if she should be fighting not just for Winter, but for the world."
My Review:

Ice Like Fire is the awesome sequel to Snow Like Ashes. Winter is now free from Spring's rule, but new troubles are on the rise. Cordell's king may be giving Winter aid, but Meira still feel like her kingdom is under their oppression. The Cordellian king wants to find the magic chasm, and when Meira's Winterians do, she intends to prevent the magic from being released. Theron want everyone to have magic, and Meira disagrees. Theron and Meira's relationship becomes strained and they set off on a quest throughout the kingdoms of Primoria to find the three keys that will open the chasm.
We finally get a glimpse at three other kingdoms in this book: Summer, Yakim and Ventralli. Each are unique and different. Summer is about pleasure and they have slavery and brothels. Yakim is about knowledge and they have universities and advanced technology. Ventralli loves art and beauty and is like Venice with its masks. I love that the world building of Primoria is so intricate and different from other fantasy novels I've read. I love the kingdoms based off the seasons and the rhythms. Sara has a Pinterest board for her series that really gives you the look and feel of the different kingdoms.
Meira is such a great character. She's pretty down-to-Earth for a queen. She'd prefer pants to dresses. She's like to use her Chakram to protect her kingdom. I feel sorry for Mather. Theron has Meira's love, but I feel like Mather is meant for her. When I think of Meira and Mather I picture the Elsa-Jack Frost pairing. There's not much romance in the story. It's more about the adventure and the kingdoms, but I'm okay with that. I just want Mather and Meira to get together and kiss in the final book.
The ending was somewhat surprising. I kind of expected some of it, but I didn't know where it was going. I just hope the finale if awesome. I wonder what the title will be. Frost Like (Flame? Sparks? Not sure). I really would love to read more fantasy like this. I recommend it to those who enjoyed Frozen, Game of Thrones and books like: Incarnate and

The Orphan Queen by Jodi Meadows, Shatter Me by Tahereh Mafi,

Crewel by Gennifer Albin, The Jewel by Amy Ewing, Defiance by C.J. Redwine, The Young Elites by Marie Lu and the Red Queen by Victoria Avyard.
Cover Art Review: I love this cover so much! The Chakram and the seasons. It's just so amazing.