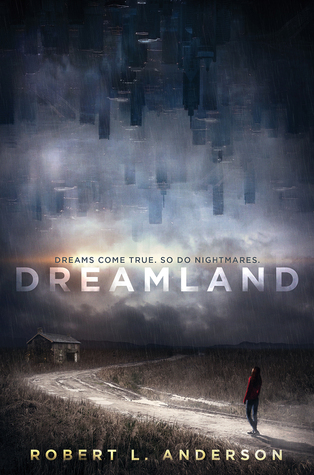 Genera(s): Paranormal Romance/Sci-fi
Subjects: supernatural, dreams, abilities
Setting: Fielding, Indiana
POV/Tense: 3rd person POV, Odea Donahue
Summary/ product description:
"Odea Donahue has been able to travel through people's dreams since she was six years old. Her mother taught her the three rules of walking: Never interfere. Never be seen. Never walk the same person's dream more than once. Dea has never questioned her mother, not about the rules, not about the clocks or the mirrors, not about moving from place to place to be one step ahead of the unseen monsters that Dea's mother is certain are right behind them.
Then a mysterious new boy, Connor, comes to town and Dea finally starts to feel normal. As Connor breaks down the walls that she's had up for so long, he gets closer to learning her secret. For the first time she wonders if that's so bad. But when Dea breaks the rules, the boundary between worlds begins to deteriorate. How can she know what's real and what's not?"
My Review:

Dreamland is pretty awesome. It's darker and funner than I expected. The 3rd person POV doesn't bother me. Also, it's the first book that I've read set in Indiana, the state next door (to Illinois, where I live). Dea and Conner have both lived in Chicago, though, so that's cool.
I've read a few books before that have dream walking in them. Mainly the Nightmare Affair series by Mindee Arnett. Dea is not a Mara/Nightmare, though, she has to dreamwalk or she'll get sick. Her mother can dreamwalk too. They've moved around a lot and her mom changes jobs. Her mom's afraid of mirrors and love clocks and has rules for them to follow when dreamwalking.
I really enjoyed the character's relationship and banter. There was a lot of fun to be had, especially in the beginning when Conner and Dea started hanging out. Dea's friend Gollum is interesting too. She got her nickname in elementary school from wearing a Lord of the Rings shirt. Her family are poor farmer and Gollum has to wear hand-me-downs from her older brothers a lot. Conner, Dea and Gollum are kind off outsiders in their high-schooler. The least popular. Conner just moved the fielding and his cousin lives there. There are rumors about Conner murdering his mom when he was seven.
There are twists in the story that are pretty cool. I was hoping that Dea was a Nighmare, but no. Dea and her Mom's real story is even cooler. The story turns into a thrill ride when Dea's mom suddenly disappears. Cops have suspicions and Dea's life is turned upside down.
If you enjoyed The Nightmare Affair, Mindwalker, the Wake series, or any other paranormal books that involve dreams be sure to read Dreamland.
Cover Art Review: I love this cover. The building upside-down on the top are from Chicago. They are repeated in a pattern, layered. There's are rain texture on them. The landscape on the bottom is eerie. This cover was probably made by the same people as the cover of Not a Drop to Drink and After the End.