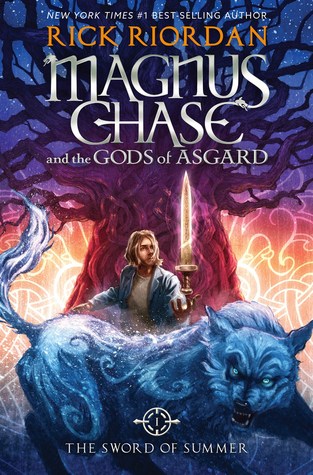 Series: Magnus Chase and the Gods of Asgard (bk. 1)
Genera(s): Paranormal Fantasy adventure with mythology
Subjects: adventure, fantasy, gods, magic, mythology, Norse mythology, paranormal, summer, supernatural, Valkyries, gods and goddesses, Massachusetts, humor
Setting: Boston, Massachusetts, and the world of Norse Mythology, Valhalla
POV/Tense: 1st person POV, past tense: Magnus Chase
Age/Grade Level: Teen, maybe younger, middle school and up?
Summary/ product description:
"Magnus Chase has always been a troubled kid. Since his mother's mysterious death, he's lived alone on the streets of Boston, surviving by his wits, keeping one step ahead of the police and the truant officers.
One day, he's tracked down by a man he's never met—a man his mother claimed was dangerous. The man tells him an impossible secret: Magnus is the son of a Norse god.
The Viking myths are true. The gods of Asgard are preparing for war. Trolls, giants and worse monsters are stirring for doomsday. To prevent Ragnarok, Magnus must search the Nine Worlds for a weapon that has been lost for thousands of years.
When an attack by fire giants forces him to choose between his own safety and the lives of hundreds of innocents, Magnus makes a fatal decision.
Sometimes, the only way to start a new life is to die . . ."
My Review:

It's been a while since I've read any Rick Riordan books. I never got past the first The Lost Hero. Reading this book was a real treat. It's funny and exciting and pure entertainment. It's very much like his other books, written in first person this time. Magnus is a little like Percy, but he's Annabeth's cousin. When I started this book I didn't know that, and then Annabeth shows up. I forgot her last name was Chase too. I almost didn't read this book because I didn't read the Heroes of Olympus series, but thankfully there's no spoiler to that series in this book. You can read The Sword of Summer without having read any other Rick Riordan book.
Magnus is a pretty interesting character. He lived on the streets of Boston for about 2 years, he ends up in Valhalla after dying, and finds out he's a demi-god. He can heal people. He has to track down the sword of summer, which he lost in the river when he died. The character Sam is interesting too. She's half-middle eastern and wears a green head scarf (hijab). Her father is Loki, but she's not like him. She's also a Valkyrie and has a double life. She's got a normal school life at home, living with her grand parents.
There's also Magnus's dwarf and elf friends. Blitz has a crazy sense of fashion. Hearth is deaf and Magnus speaks to him in sign language. What a great group of characters. Rick's so great at developing characters. Even characters with smaller roles are very unique and developed. Like, did you know that Thor is a TV addict and watched Arrow and the Walking Dead? That's pretty cool. And there's a sea goddess named Ran who like to collect junk?
This book has so many ridiculous surprises, it's unbelievable. It's so unrealistic and nonsensical, but I love it. I like the idea of that Gods being up on modern society and technology. It's cool, but then apparently giants text and dwarves listen to Taylor Swift. There's some weird stuff that makes this feel like a parody movie. This story is 491 pages long. If I didn't have school and work I would have probably finished it in 2 days. Fast reader maybe in 1 day. There are no dull moments. It's bam, bam, BAM! Non-stop awesomeness. You will not want to put this book down. It will feel as if your hands are glued to the book and your eye stuck open.
If you have read and enjoyed Loki's Wolves, Odin's Ravens, and Thor's Serpent by Kelley Armstrong and Melissa Marr, then I highly recommend this book. Also fans of the Thor movies, or anything myth-related. Norse Mythology is hot and different from the Greek stuff. This book is fun and you will learn about Norse Mythology, even it Rick has twisted it a little.
Cover Art Review: Great illustration! Very typical of Rick Riordan books.