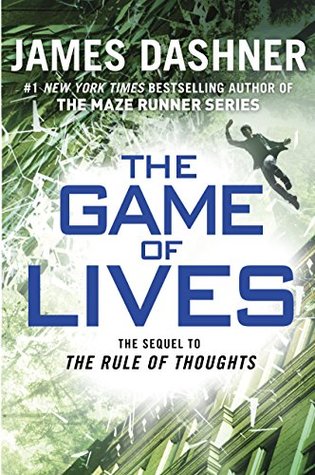 Series: The Mortality Doctrine (bk. 3)
Genera(s): Dystopian Sci-fi/Action-Adventure
Subjects: action, adventure, artificial intelligence, gamers, games, hackers, technology, thriller, video games, virtual reality
Setting: The VirtNet, Atlanta, Georgia
POV/Tense: Limited 3rd person POV, past tense: Michael
Publisher: Random House: Delacorte Press
Summary/ product description:
"Michael used to live to game, but the games he was playing have become all too real. Only weeks ago, sinking into the Sleep was fun. The VirtNet combined the most cutting-edge technology and the most sophisticated gaming for a full mind-body experience. And it was Michael's passion. But now every time Michael sinks, he risks his life.
The games are over. The VirtNet has become a world of deadly consequences, and Kaine grows stronger by the day. The Mortality Doctrine—Kaine's master plan—has nearly been realized, and little by little the line separating the virtual from the real is blurring. If Kaine succeeds, it will mean worldwide cyber domination. And it looks like Michael and his friends are the only ones who can put the monster back in the box—if Michael can figure out who his friends really are."
My Review:

It may be just me, but I enjoyed this final book less than the previous 2. There were not as many crazy mid-blowing twists are part of the reason. It could be that I've had a stressful past week and instead of reading the book consistently, I had to work of projects. Still, I love the idea of this series. It's so creative. It kind of make me think of the Matrix because the VirtNet's life-like virtual reality. If you haven't read the previous two books, you shouldn't read this review because. (SPOILERS FROM PREVIOUS TWO BOOKS AHEAD).
As a review, Michael is a Tangent and he's in the body of Jackson Porter. Michael and his friends are trying to stop VNS and Kaine's enactment of the Mortality Doctrine. Tangents are continuing to be downloaded into people's bodies, possessing them and creating chaos around the world. Michael's nanny appears to him in a real body and she and other have a plan to fix the situation.
They're going to an embassy to virtually witness a UE meeting (Like the UN). They get side tracked and end up meeting other tangents that want Michael to join them. Bad stuff happened along the way. Some die, some live. Michael finds out there's a lot more to what's going on, and he doesn't know whom to trust. His greatest enemy might just be his greatest ally.
I did enjoy the action and all the stuff about coding and the VirtNet. The characters still feel a bit flat personality-wise, but the dialogue is good. I like Bryson's sense of humor, and Sarah's okay. I really liked the funny possibly connection of this series to The Maze Runner. Bryson says he has Griever nightmare, supposedly from a game, and "Flare-infested Crank" is mentioned near the end. Also, in The Kill Order, the VirtNet is mentioned.
Overall, it's a good finale. I might not have read it at the right time. I hope James Dashner continues to write fun action-packed book series like this one. I'm sure I'll read it. I recommend this to fans of James Dashner. Also people who enjoyed these books: Elusion by Claudia Gabel and Cheryl Klam, Insignia by S.J. Kincaid, and Mila 2.0 by Debra Driza. Fans of the Matrix movies, and Transendence and any sci-fi movie about technology will enjoy this.
Cover Art Review: It fits the book, but it's kind of boring. I wish the title wasn't so big and centered.