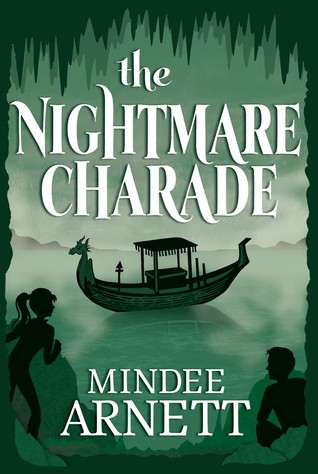 Series: Arkwell Academy (bk. 3)
Genera(s): Paranormal Romance
Subjects: supernatural, boarding schools, dreams, humor, magic, magical creatures, mystery, mythology, nightmares, sirens
Setting: Somewhere in Ohio (Chickery) at Arkwell Academy
POV/Tense: 1st person, past tense: Dusty
Publisher: Macmillan: Tor
Summary/ product description:
"The final installment in a thrilling fantastical mystery series.
Sixteen-year-old Dusty Everhart breaks into houses late at night, but not because she's a criminal. No, she's a Nightmare. Literally. Dusty is a magical being who feeds on human dreams.
Being the only Nightmare at Arkwell Academy, a boarding school for magickind, and living in the shadow of her mother's infamy is hard enough, not to mention the crazy events of the past year. Dusty may have saved the day, but there are many days left in the year, and with an old foe back to seek revenge, she'll need all her strength to defeat him and save her friends.
Mindee Arnett thrills again in this stunning final installment in the Arkwell Academy series."
My Review:

Another wonderful finale. What started in The Nightmare Affair, and continued in The Nighmare Dilemma ends in The Nightmare Charade. Dusty Everhart is a Nightmare (and half-human). She can enter people dreams and feed off their dream energy known as fictus. Eli and her are Dreamseers (and call themselves the Dream-team). When she enters Eli's dreams, they can see the future. They are given a task to look into the disappearance of Deaths Heart, which can steal souls.
I really like this series. It's fun and entertaining. It's set in a boarding school like a lot of paranormal series I've read. This school isn't like Hogwarts. It's not only for wizards and witches, but also for Dark-kind (demons, nightmares, sirens) and Nature-kind (fairies, dryads) too. It's supposed to be in Ohio, which is cool because I've been to Ohio, but it's not like the state setting plays a huge role. It's where the author lives.
I think the coolest side character is Selene, Dusty's best friend. She's a Siren and she has black bird wings and can fly! She can also mesmerize like the other sirens, but chooses not to. She mostly uses spells and decides to try out for the gladiator team. I think it would be awesome for the author to write a spin-off series about a siren. It's kind of cool to have a non-mermaid siren.
In this book when Dusty enters Eli's dreams they see something that freaks them out. There's this curse that Dreamseerers can't fall in love because one will die. Lady Elaine has warned them and shown Eli her vison of what will happen if they continue their relationship. Eli can't help that he loves Dusty, but tries to distance himself and tries to join the gladiator team. During the dream-feeding session, a Will Guard puts Eli to sleep before Dusty has a chance to talk to Eli. In the dreams, they cannot touch, which sucks. This forbidden romance is hard on them.
The ending is crazy and full of twists. I never guessed who was behind it all. There's a lot of things I don't want to spoil, so I didn't mention the other plot points. There's so much than happens in this book. It's a great ending. I recommend this series to fans of paranormal romance series that take place in boarding schools, like Evernight, Hex Hall and Haven.
Cover Art Review: It's a vector illustration and looks kind of fun. I just don't like how the boat was rendered.