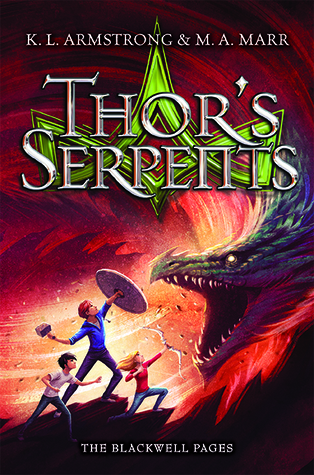 Series: The Blackwell Pages (bk. 2)
Genera(s): Paranormal/Fantasy/Adventure
Subjects: gods, magic, mythology, Norse mythology, supernatural, werewolves
POV/Tense: 3rd person POV, past tense, rotating between Matt, Fen, Laurie and Owen
Age/Grade Level: Middle Grade, 11+
Publisher: Hachette: Little, Brown
Summary/ product description:
"For fans of Percy Jackson and the Olympians, the thrilling conclusion to The Blackwell Pages, written by New York Times bestselling YA authors, K.L. Armstrong and M.A. Marr.
Thirteen-year-olds Matt, Laurie, and Fen have beaten near-impossible odds to assemble their fellow descendants of the Norse Gods and complete epic quests. Their biggest challenge lies ahead: battling the fierce monsters working to bring about the apocalypse.
But when they learn that Matt must fight the Midgard Serpent alone and Fen and Laurie are pulled in other directions, the friends realize they can't take every step of this journey together. Matt, Laurie, and Fen will each have to fight their own battles to survive, to be true to themselves, and to one another - with nothing less than the fate of the world hanging in the balance."
My Review:

Thor's Serpents is the finale to the Blackwell Pages by Kelley Armstrong and Melissa Marr. It's pretty epic and great for fans of Rick Riordan's books. It's may be a Middle Grade series, but it can be enjoyed by all ages. The main characters are 12, 13 or 14 years-old. The writing is clean, and written from the 3rd person perspective. There's lots of magic, mayhem and monsters. It's fun and exciting.
Ragnarok is coming and Matt, Fen and Laurie have no idea how to stop it. It's their fate as the god's champions, but they want to stop it. Fen's trapped with being the alpha of the Raiders wolf pack. Laurie is Loki's Champion, and Matt is Thor's. The power goes out in Rapid City and Mara descend on its citizens. Flaming giants attack in Mitchell, and another rooster crows. Stuff's going down.
The characters are interesting and unique from each other. Since it's 3rd person, we don't get much incite into them, but we know Matt's an athlete/geek, Fen's a troublemaker, and Laurie's smart. The character that I found the most interesting in personality was Reyna. She's hilarious and her and Matt like each other. She's acts all tough and sassy. Baldwin's also cool. He also apparently watches Myth Busters, which I found awesome. Owen's strange, but he's got an eye patch.
The best part of this book was that it's was set in South Dakota. Most of the places mentioned I've been too or past. I never heard of the Journey Museum, or been in the Corn Palace, but I'm very familiar with the Badlands. I've been there three times (twice in one trip). I've been to Rapid city and the Black Hills (camped in Custer State Park). I've been to Deadwood, Mt. Rushmore, and Reptile Gardens. This series is set in summertime and it showcases tourist attractions as setting. Blackwell may not be a real town, but more other places mentioned are real. The authors must have vacationed there and decided to set the series there.
If you're a fan of mythology, Rick Riordan's book or the Thor Marvel movies, then check out this series. It's great for middle schoolers, maybe 5th graders too. Don't feel ashamed if you're a high schooler, collage student or adult. Read this series and enjoy it!
Cover Art Review: Lovely illustrations from a skilled artist. I think it's a digital painting.