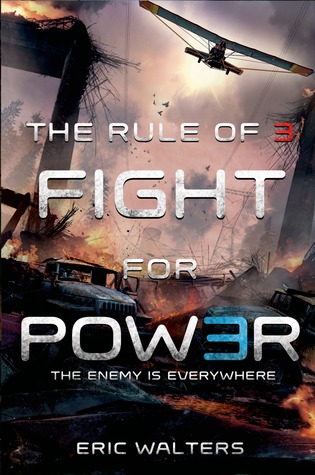 Series: The Rule of Three (bk. 2)
Genera(s): Apocalyptic Dystopian Sci-fi
Subjects: blackouts, survival, thriller, pilots
Setting: A suburban neighborhood called Eden Mills
POV/Tense: 1st person POV, past tense: Adam
Publisher: Macmillan: FSG
Summary/ product description:
"As this apocalyptic trilogy hurtles to a chilling conclusion, Adam is pushed to the edge of his endurance and sanity.
Adam has killed again. It had to be done, part of him knows that, but murder changes a person. It can certainly change a teenager who's already grown up too quickly, too harshly, in the wake of the catastrophic global blackout five months ago. In the name of safety and survival, Adam and his neighbors have turned their middle American suburban neighborhood into a fortress, defending against countless enemies. But what's lurking in the dark is a greater danger than ever before: somebody who wants to destroy the neighborhood and Adam at any cost. Soon, the hunted will have to become the hunter . . . and Adam hates himself for what he will have to do. Because sometimes even the dark is not cover enough for things that would never happen in the light."
My Review: Fight for Power is the sequel to The Rule of 3. 10 weeks ago the light went out. Everything connected to a computer system stopped working. The only electricity can come from generators and batteries. Newer car don't work. No running water or pluming either. Adam's neighborhood was attacked at the end of the previous book and they had to blow up a bridge and kill hundreds of the men attacking them.
The people in the neighborhood had banded together to create a functioning society in which everyone chips in on the work. Adam is flying his lightweight plane doing air patrol. Adam's mom is over seeing law enforcement and patrol since she was originally the commanding officer/chief of police in their town. Brett is running night patrols. Other folk are doing their part to keep the town running. Without an outside threat anymore, tensions are high and little disputes get bigger. Also, Brett is a complete jerk to Adam and his girlfriend Lori.
There's nothing spectacular about this sequel, honestly. Action-wise atleast. It's more of an exploration of humanity and right vs. wrong is good. This story has good a good message. Herb is a mentor figure to Adam. Though Herb has a lot of personal demons in his past, he keeps the town running and became a fair leader. He's nothing like the cruel dictators with secret agendas of other YA dystopian books. He's always got a plan, but he's not plotting to kill. Another character might be though.
I feel like this series would definitely appeal to boys. The pilot aspect is cool. Dystopian is still pretty hot, but this is a post-catastrophe dystopian set only month after the fact. It's a lot like Ashfall by Mike Mullin, minus the ash. Also it makes me think of the TV show Revolution, because the blackout. I recommend this book if you liked: Ashes by Ilsa J. Bick, the Ashfall series, Life As We Knew It/The Last Survivors series. Any dystopian book with survival, really.
Cover Art Review: Very dramatic illustration. Fits with previous cover.