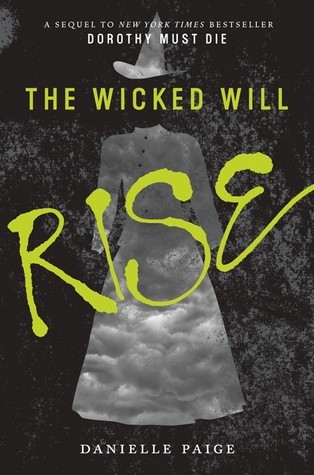 Series: Dorothy Must Die (bk. 2)
Genera(s): Fantasy/Paranormal Romance
Subjects: magic, adventure, retellings, witches, wizards, fairy tales
POV/Tense: 1st person POV, past tense: Amy Gumm
Summary/ product description:
"In this dark, high-octane sequel to the New York Times bestselling Dorothy Must Die, Amy Gumm must do everything in her power to kill Dorothy and free Oz.
To make Oz a free land again, Amy Gumm was given a mission: remove the Tin Woodman's heart, steal the Scarecrow's brain, take the Lion's courage, and then Dorothy must die...
But Dorothy still lives. Now the Revolutionary Order of the Wicked has vanished, and mysterious Princess Ozma might be Amy's only ally. As Amy learns the truth about her mission, she realizes that she's only just scratched the surface of Oz's past—and that Kansas, the home she couldn't wait to leave behind, may also be in danger. In a place where the line between good and evil shifts with just a strong gust of wind, who can Amy trust—and who is really Wicked?"
My Review:

The sequel to Dorothy Must Die may not be as amazing as it's 1st book, but it was still pretty awesome. It was funny and kind of ridiculous most of the time. Overly silly at times. Maybe it was over done, or maybe Oz is supposed to be crazy and anything can happen. I did enjoy this book. It was a light, fun read and kind of short compared to the first book. I love all the magic and the adventure.
I really enjoyed getting to see different parts of Oz. I never read any of the Oz books or Wicked, only the movies so I'm not sure how accurate Danielle's writing is. I'm sure the originals didn't have swearing. This not a little kid's book though. It's meant for teens and up. Dorothy and Glinda are evil and the wicked are trying to save Oz. Things are kind of flipped. It's not a retelling but more of a Wizard of Oz fanfiction that way. Some really crazy stuff starts to happen to Amy when she taps into dark magic more. She gets fast a fighting, but something really scary happens later on.
What annoyed me about this book was that Nox doesn't show up again for a while. I really liked him and Amy starts pining over Pete, but Amy's crush on Pete get solved quickly. No love triangles I guess. But I just love Nox. He helped train Amy in fighting in the first book.
Over all I enjoyed this enough to give it fours stars. I hope the 3rd book's even better. I am slightly irritated by all the novellas in this series. I read No Place Like Oz last year and that helped with backstory. The Witch Must Burn was Jellia's story, but she's not even in this sequel! How disappointing. I have yet to read The Wizard Returns or the Heart of Tin.
Cover Art Review: Minimalist vector based cover. Like the use of texture.