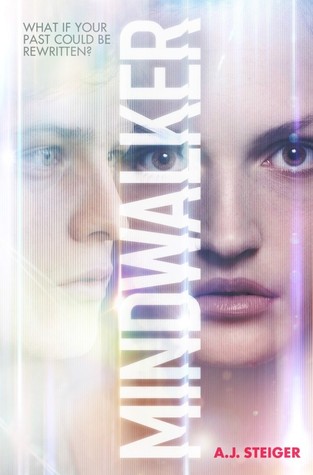 Series: Mindwalker (bk. 1)
Genera(s): Dystopian Sci-fi/Romance
Subjects: memory, brainwashing, psychology, love, technology
Setting: The city of Aura in the United Republic (in the future)
POV/Tense: 1st person POV, present tense: Lain Fisher
Publisher: Penguin: Alfred A. Knopf
Summary/ product description:
"At seventeen, Lain Fisher has already aced the Institute's elite training program for Mindwalkers, therapists who use a direct neural link to erase a patient's traumatic memories. A prodigy and the daughter of a renowned scientist-whose unexplained death left her alone in the world-Lain is driven by the need to save others.
When Steven, a troubled classmate, asks her to wipe a horrific childhood experience from his mind, Lain's superiors warn her to stay away. Steven's scars are too deep, they say; the risk too great. Yet the more time Lain spends with him, the more she begins to question everything about her society. As she defies the warnings and explores Steven's memories, it becomes clear that he's connected to something much bigger…something the Institute doesn't want the world to discover.
Lain never expected to be a rule breaker. She certainly didn't plan on falling in love with a boy she's been forbidden to help. But then, she never expected to stumble into a conspiracy that could ignite a revolution."
My Review:

This book was surprisingly awesome. I enjoyed every minute of it. It's a unique kind of dystopian book in that it's set in a society where psychological differences separate people. There it a Type system. Type 1 is most stable, type 4 and 5 least stable mentally. Lain is type 1, Steven is type 4. Steven was kidnapped when he was younger and wants Lain to erase those memories because she is a Mindwalker. It's Lain's job to help rid people of disturbing memories. When Lain begins helping Steven against the rule, she starts to uncover something big. And a romance develops between them.
This it such an entertaining read. Steven's lines are often funny and memorable. Lain's a great narrator. The romance is funny and kind of good-girl/bad-boy. It's not as cliché as it sounds. These are some great memorable characters and we get to discover their pasts. There's a lot of mystery too them. There are quite a few twists in the story too.
The whole idea of Mindwalking is really interesting. This device called a Gate enables you to see and feel what a person is thinking and experience their memories. It's like virtual reality, but real events.
There's just such a great story here. It's a kind of under the radar book. There are similarities to other series here, but it's pretty unique. Minder by Michelle Jaffe and Uninvited by Sophie Jordan and Elusion by Claudia Gabel and Cheryl Klam are the closest comparisons.
Cover Art Review: Beautiful colors and title treatment.