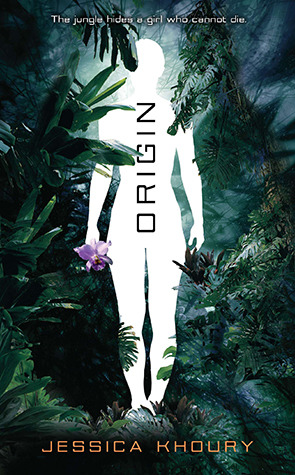 Publication Date: Sept 4, 2012 (and I've finally read it!)
Genera(s): Sci-fi/Romance
Subjects: experiments, genetic engineering, immortality, rainforests,
Setting: In the Amazon Rainforest in a facility called Little Cam
POV/Tense: 1st person, present tense: Pia
HC/PB: Hardcover/Paperback
Publisher: Penguin: Razorbill
Summary/ product description:
"Pia has grown up in a secret laboratory hidden deep in the Amazon rain forest. She was raised by a team of scientists who have created her to be the start of a new immortal race. But on the night of her seventeenth birthday, Pia discovers a hole in the electric fence that surrounds her sterile home―and sneaks outside the compound for the first time in her life.
Free in the jungle, Pia meets Eio, a boy from a nearby village. Together, they embark on a race against time to discover the truth about Pia's origin―a truth with deadly consequences that will change their lives forever.
Origin is a beautifully told, shocking new way to look at an age-old desire: to live forever, no matter the cost.
My Review:

Almost three years since this book has come out and it's been sitting on my shelf waiting to be read. Maybe I would have read it sooner if I got it from the library instead of buying it. Anyways, I'm glad I read it. It's a very unique book. It's set in the Amazon Rainforest on a medical research facility called Little Cam. It's a secret place because it's where Pia was made. She's the first immortal, and the only one.
The love interest of Pia is a boy named Eio. His father is a scientist at Little Cam, but his mother was a native. He was raised by the native, though he looks different from them. Pia meets him when she finds a hole in the fence that keeps her out of the jungle and finally goes into the jungle. Eio seems charming and sweet and even has a sense of humor. He's kind of like Tarzan, but not completely wild. He's pretty smart because his father taught him English and about the world. Pia's been sheltered and doesn't know anything about the world outside Little Cam.
Pia reminds me of Seraphina from the Unremembered series by Jessica Brody. She's has a photographic memory, enhance reflexes and speed, but not much upper-body strength. She cannot be cut open, shot or impaled in anyway. She indestructible, but still feels pain. She was born, not created in a lab. The deadly nector of a flower was combined with something and then injected into her ancestors over 5 generation to make Pia an immortal. It's a really interesting sci-fi idea. I'd recommend this book to fans of Unremembered, Maximum Ride, Altered by Jennifer Rush, The Rules by Stacy Kade and other books with genetic engineering and mad science.
Cover Art Review: I love the cover. The rainforest texture is pretty and the flower and the outline with the title.