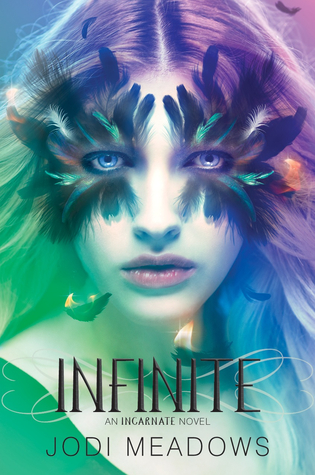 Genera(s): Fantasy, Dystopian, Sci-fi, Romance
Subjects: Reincarnation, love, supernatural, utopias, adventure, dragons, sylphs
Setting: Heart and the Range. Situated in an area that is pretty much like Yellowstone National Park in Wyoming
POV/Tense: 1st person POV, past tense: Ana
HC/PB: Hardcover and now in Paperback
Publisher: HarperTeen: Katherine Tegen Books
Summary/ product description:
"DESTRUCTION
The Year of Souls begins with an earthquake—an alarming rumble from deep within the earth—and it's only the first of greater dangers to come. The Range caldera is preparing to erupt. Ana knows that as Soul Night approaches, everything near Heart will be at risk.
Ana's exile is frightening, but it may also be fortuitous, especially if she can convince her friends to flee Heart and Range with her. They'll go north, seeking answers and allies to stop Janan's ascension. And with any luck, the newsouls will be safe from harm's reach.
The oldsouls might have forgotten the choice they made to give themselves limitless lifetimes, but Ana knows the true cost of reincarnation. What she doesn't know is whether she'll have the chance to finish this one sweet life with Sam, especially if she returns to Heart to stop Janan once and for all.
With gorgeous romance and thrilling action, the final book in the Incarnate trilogy offers a brilliant conclusion to the compelling questions of this fascinating world, where one new girl is the key to the lives of millions.
My Review:

I'm finally done with this series. I put off reading this final book for a year. I loved this series because it was so unique and interesting. I like the romance and the mix of fantasy and sci-fi elements. I don't know if I will ever read a series like it again and now I finally am saying goodbye to it. It's really hard for me to review this. I loved it, and I tried to drag it out.
It's set during the wintertime in an area that may have once been Yellowstone National Park in Wyoming, or a place like it. There are fantastical creatures like dragon, sylphs, centaur, trolls and even phoenix. It's full of awesome world building that keeps you guessing whether this is set in some kind of distant future, or a whole different world. A million souls reincarnating for 5,000 years sounds pretty crazy. We find out more information in the e-novella, Phoenix Overture, but never the whole truth. I recommend reading it before this book. That novella is why I put off this book so long. It's 90 pages long and I hate reading long things on my Nook.
I enjoyed the adventure in this finale.

Ana, Sam, Stef, and Whit travel north to find another wall where dragons live. They translate a Phoenix book along the way with the help of sylph. It explains the past and the truth about Janan. They have to make a plan to stop his ascension that could set off a super volcano event right inside the Range.
I loved Ana and Sam's relationship. They share the love of music and play together sometimes. Ana was a big fan of Sam aka Dossam before she even met him, but she fell in love with the dark hair boy who said his name was Sam. Sam tries to protect Ana and encourages her curiosity and believes she can do what she sets her mind too. If she believes that she can get dragon to help stop Janan, then he will help even if he's terrified of dragons.
If you have not read Incarnate yet, then why are you reading this review? Go read Incarnate! Jodi Meadows is awesome and she has a new book called the Orphan Queen coming out in March 2015.
Cover Art Review: The colors are so gorgeous on this cover. It's like aurora colors. I love the feathers and the eyes on the girl's face. I love the engraved feather under the book jacket too.