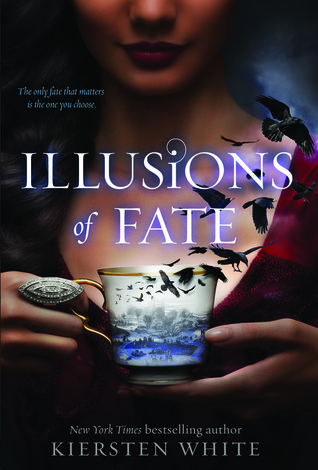 Genera(s): Fantasy/Paranormal Romance
Subjects: magic, love, diversity, racism
Setting: Albion, a country much like London in the early 1900s
POV/Tense: 1st person POV, present tense: Jessamin
Summary/ product description:
"Downton Abbey meets Cassandra Clare in this lush, romantic fantasy from New York Times bestselling author Kiersten White.
"I did my best to keep you from crossing paths with this world. And I shall do my best to protect you now that you have."
Jessamin has been an outcast since she moved from her island home of Melei to the dreary country of Albion. Everything changes when she meets Finn, a gorgeous, enigmatic young lord who introduces her to the secret world of Albion's nobility, a world that has everything Jessamin doesn't—power, money, status…and magic. But Finn has secrets of his own, dangerous secrets that the vicious Lord Downpike will do anything to possess. Unless Jessamin, armed only with her wits and her determination, can stop him.
Kiersten White captured readers' hearts with her New York Times bestselling Paranormalcy trilogy and its effortless mix of magic and real-world teenage humor. She returns to that winning combination of wit, charm, and enchantment in Illusions of Fate, a sparkling and romantic new novel perfect for fans of Cassandra Clare, The Madman's Daughter, and Libba Bray."
My Review:

Illusions of Fate is a standalone fantasy novel that reads more like a paranormal historical fiction novel. I've never been a fan of historical fiction; especially ones set in late 1800s/early 1900s London, England (The only series I like set there is The Madman's Daughter by Megan Shepherd). This book is basically set in an alternate version of early 1900s London. It's got some of the historical sounding English phrases that I hate to read. It's got carriages and some cars and limited electricity and so on.
But enough of the thing that I did not enjoy. I loved Kiersten White's Paranormalcy series. She's good are writing interesting heroines that are determined and sometimes stubborn. She adds humor and lightness and makes pages fly by. Chapters are never too long. There are always interesting elements and side characters. Her books are usually fun. That said, I read Illusions of Fate in one day.
The main character, Jessamin, is half Melei and half Albion. Melei is an island colony much like Tahiti, or maybe the Philippines. The natives have dark skin, Asian features. Albion is basically England and Jessamin's father is a professor there. Jessamin is studying history though her real passion is math. She's always doing equations in her head. She meets a guy named Finn and he flirts with her and they run into each other a few times and Jessamin gets invited to a Gala and he's there. Finn is an interesting character too. He's charming and sometimes infuriates Jessamin because of it. There's a character named Eleanor who becomes Jessamin's friend and she's very dramatic and loves gossip. She has a brother named Ernest.
I really love Sir Bird, a black bird (Crow or Raven possibly) with yellow eyes that turns into a book. Jessamin is really annoyed with this bird at first but grows to like him. He's a familiar. He does not talk but he seem to understand some thing. Crows and Raven are smart birds and definitely not evil, but some other black bird seem to be spying on Jessamin. Also there's a man called Lord Downpike who has evil intentions and threated to hurt Jessamin if Finn doesn't give him what he wants.
This book has themes of colonizing and race issues. It's a diverse book since the main character is Asian, even if it's the fantasy world version. I recommend this to fans of Daughter of Smoke and Bone, The Madman's Daughter, books with Asian main character and books that may be steampunk or set in Victorian London.
Cover Art Review: Lovely cover. The title with the violet glow and the bird coming out of the painted cup is just gorgeous.