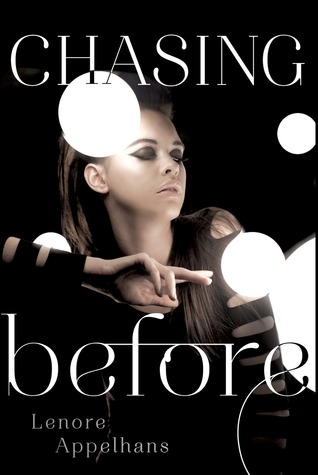 Series: The Memory Chronicles (bk. 2)
Genera(s): Sci-fi dystopian/Paranormal
Subjects: afterlife, death, love, supernatural, angels, memory
POV/Tense: 1st person POV, present tense: Felicia
Publisher: Simon & Schuster
Summary/ product description:
"I'm a ticking time bomb. And one day soon everything is going to explode."
Felicia and Neil have arrived in Level 3 and are supposed to prepare for their divine vocations.
But during Felicia and Neil's training period, a series of explosions rips through Level 3. Tension is high, and casualties are mounting. A rift forms between the pair, one that grows wider when Felicia receives memories from the Morati. The memories cast doubt on the people she loves the most, but Felicia can't stop her curiosity. She has to know the truth about her life – even if it means putting at risk everything she's worked for in her death."
My Review:

Chasing Before is the second book in the Memory Chronicles, and the sequel to Level 2, which was given a new title: The Memory of After. It's set on Level 3 of the afterlife. Level 2 was like a hive of white with pod and people could view and exchange their memories of their life on Earth. Level 3 is kind of like a collage campus in which people can choose their career path, which includes: Muse, Guardian Angel, Demon Hunter, Spirit Trapper, Healer, Caretaker, and Seraphim Guard.
Felicia and Neil arrived on Level 3 together and Felicia's former best friend Autumn is there. Felicia and Neil decide to try for Muse because of their music background, but keep their option open. Some other friends and enemies also turn up on Level 3. Who can be trusted? Some terrible destruction is being caused by Morati angels, but who are the angels doing this? Could Julian be the cause?
Felicia discovers that she may have not died when she thought she did. She and Neil have months' worth of memories taken from them. She's desperate to find out what happened between them. How did their relationship develop after the accident? Felicia also tries for a more difficult afterlife career path that could help her uncover the hidden Morati.
I enjoyed this sequel. It was very different from the previous book. There were still a lot of flashbacks of Felicia's life, but there was more action and more information on angels and the afterlife. There were tons of crazy twists and intrigue. I love books about angels, but this went a different way than my usual angel books. I also enjoyed the world building of the different levels of the afterlife and different jobs.
I'm really confused on whether this is the final book in a
duology, but the ending wraps up nicely.
I recommend this book to fans of If I Stay, The Immortal Series & Riley Bloom series by Alyson Noel, Before I Fall by Lauren Oliver and other books about the afterlife. Also, dystopia books, including Divergent by Veronica Roth.
Cover Art Review: Felicia is on the cover in a black outfit and the balls are memory orbs. I like the title typeface.