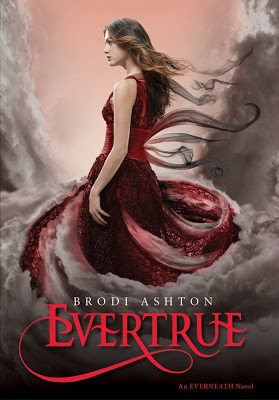 Series: Everneath (bk. 3)
Genera(s): Paranormal Romance/Fantasy
Subjects: Supernatural, underworlds, immortality, love, mythology
Setting: Park City, Utah and the Everneath
POV/Tense: 1st person POV, past tense: Nikki
HC/PB: Hardcover and now in Paperback
Summary/ product description:
"Now that Nikki has rescued Jack, all she wants is to be with him and graduate high school. But Cole tricked Nikki into feeding off him, and she's begun the process of turning into an Everliving herself... which means she must feed on a Forfeit soon — or die.
Terrified for her survival, Nikki and Jack begin a desperate attempt to reverse the process using any means possible. Even Cole, who they expected to fight them at every turn, has become an unlikely ally — but how long can it last? Nikki needs to feed on Cole to survive, Cole needs Nikki to gain the throne in the Everneath, Jack needs Nikki because she is everything to him — and together, they must travel back to the Underworld to undo Nikki's fate and make her mortal once more. But Cole isn't the only one with plans for Nikki: the Queen has not forgotten Nikki's treachery, and she wants her destroyed for good. Will Nikki be forced to spend eternity in the Underworld, or does she have what it takes to bring down the Everneath once and for all?
In this stunning conclusion to the Everneath trilogy, Brodi Ashton evokes the resiliency of the human spirit and the indomitable power of true love."
My Review:

I waited a year to read this book, so it's been two years since I read Everbound. This series has gone from okay to awesome to absolutely amazing. It's partially because of the development of the heroine, Nikki, and also the other characters and this world called the Everneath.
Nikki in the first book Everneath was recovering from the time she was being fed on by Cole, so she seemed depressed and uninteresting. In Everbound she had a lot of her strength back and the story became an adventure through a labyrinth in the Everneath. In Evertrue Nikki is becoming an Everliving and would like to find a way to prevent that. She tries to get her heart back from Cole but fails, but she has a better plan that can save more lives: destroy the Everneath.
I really enjoyed the character Cole. He's the kind of guy you love to hate, but also love to love. He's like Damon Salvatore or Klaus from the Vampire Diaries, or even Warner from Shatter Me. He's a bad boy, but he's also a musician who used to be a Norwegian farm boy a very long time ago become becoming an Everliving. He's blond and hot and sometimes funny, and likes to tease Nikki.
Cole wants Nikki to love him back, but Nikki loves Jack. In this book Cole gets amnesia and forgets who is his beyond his name. He temporarily forgot how to speak English, but that didn't last long. It's kind of hilarious and adds another interesting layer to this story. Nikki makes up a false backstory for Cole so he would help them destroy the Everneath.
We see all three of our main characters work together and get along (mostly due to Cole's lack of memory). Jack and Nikki can't hate Cole if Cole doesn't remember what he did to them. Jack and Nikki can share their romance, but Nikki has to feed off of Cole or she'll die because she can't make her own energy any more. That involves kissing. Jack is not happy with this but want Nikki to live so he lets her.
This finale is well plotted with absolutely no dull moments. It's such a faster read than the first book. There's still adventure and interesting paranormal elements. It's all very unique. I recommend this to fans of paranormal books about immortals or even vampires. Also too fans of Incarnate by Jodi Meadows, which is about immortals. It's kind of like the Persephone and Hades Greek Myth so if you liked Falling Under by Gwen Hayes and Abandon by Meg Cabot and other books with mythology and the underworld too, you may enjoy this.
Cover Art Review: I absolutely love the dress turning into a vortex of smoke. It's so gorgeous. Fit with the previous covers, but this one is definitely the best.