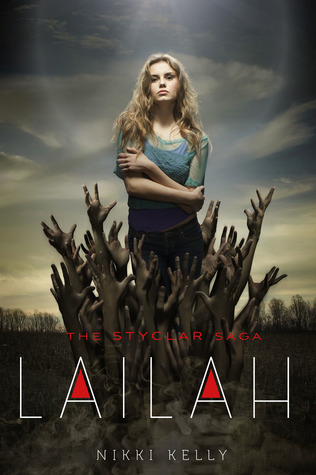 Series: The Styclar Saga (bk. 1)
Genera(s): Paranormal Romance
Subjects: supernatural, immortality, vampires, angels, demons, magic
Setting: The U.K. (England and Wales), France and other various places
POV/Tense: 1st person POV, past tense: Cessie/Lailah
Age/Grade Level: Teen (12 & up, but also feels like New Adult)
Publisher: Macmillan: Feiwel & Friends
Summary/ product description:
"Over one million Wattpad readers have made Lailah a sensation!
The girl knows she's different. She doesn't age. She has no family. She has visions of a past life, but no clear clues as to what she is, or where she comes from. But there is a face in her dreams – a light that breaks through the darkness. She knows his name is Gabriel.
On her way home from work, the girl encounters an injured stranger whose name is Jonah. Soon, she will understand that Jonah belongs to a generation of Vampires that serve even darker forces. Jonah and the few like him, are fighting with help from an unlikely Allie – a rogue Angel, named Gabriel.
In the crossfire between good and evil, love and hate, and life and death, the girl learns her name: Lailah. But when the lines between black and white begin to blur, where in the spectrum will she find her place? And with whom?
Gabriel and Jonah both want to protect her. But Lailah will have to fight her own battle to find out who she truly is."
My Review:

This book took me way too long to finish. Almost a week, probably because I was busy. This is not a fast paced read, though. The idea behind the book is good, but I guess I just wasn't in the mood for a new series that has vampires playing a major role.
I liked the angel stuff in this book, and the mystery of what Cessie/Lailah is. There's something unique and interesting about the book, but sometimes it felt to wordy or clunky. I don't know how much the editor smoothed out from the original Wattpad version, but maybe some stuff could have been cut? Maybe I had a hard time reading it was because it was written by a British woman and they talk differently there.
The romance was pretty interesting. It's a little love-triangle like, but not in a very Twilight way. Jonah reminded me of Damon from the Vampire Diaries. Jonah's American. He's got a bad boy persona and a romantic nicer side. He kept bugging Cessie about whether or not she's human or a vampire or something else. He's get-under-your-skin annoying, but you can't help but like him. Gabriel is more mysterious and very loving and caring. He's light and love. He's not the real Gabriel, the Arch Angel, but a younger angel "descendent." Lailah has feeling for both, and makes out with them and let's Jonah drink her blood.
The setting is very atmospheric. The story takes place in wintertime so there's snow and Christmas and cold. It's set in the U.K. and then they go to France too. They're in the countryside mostly, but sometimes a city or town. I kept picturing winter landscape paintings and quaint towns.
The very end of the book made me interested in reading the sequel. As much as I struggled with this first book, I will probably check out the second book Gabriel. There have been some series in which the first book feel "meh" to me and then I read the sequel and think: "Why did I even dislike the first book? This is awesome!" My advice is don't read a wordy book when you a sleepy because it will seem boring even during an action scene. Or maybe read Lailah as an ebook so you can change the type size. Sometimes good story a ruined by bad typography and design in print books. I read Lailah as an ARC.
I recommend this book to fans of Twilight, Fallen, Hush, Hush, Everneath, Halo (Alexandra Adornetto), Embrace series by Jessica Shirvington. If you still love reading vampire books or even angel books, then you should try reading this book.
Cover Art Review: I like the cover. The hands are a bit creepy. The girl looks angelic. The title has A's that look like bloody vampire fangs.