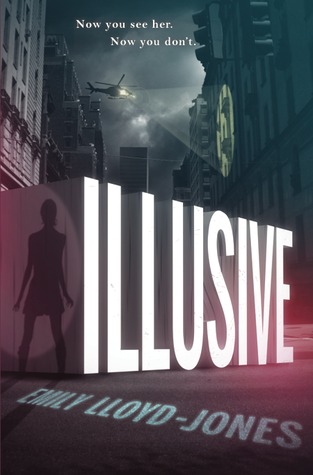 Genera(s): Near-Future/Dystopian Sci-fi/Thriller
Subjects: crime, criminals, thieves, abilities, superpowers, government agencies
Setting: Baltimore, Maryland, Washington D.C., Philadelphia, Pennsylvania, New York
POV/Tense: 3rd person POV, present tense, rotating between Ciere and Daniel
Publisher: Hachette: Little, Brown
Summary/ product description:
"The X-Men meets Ocean's Eleven in this edge-of-your-seat sci-fi adventure about a band of "super" criminals.
When the MK virus swept across the planet, a vaccine was created to stop the epidemic, but it came with some unexpected side effects. A small percentage of the population developed superhero-like powers. Seventeen-year-old Ciere Giba has the handy ability to change her appearance at will. She's what's known as an illusionist...She's also a thief.
After a robbery goes awry, Ciere must team up with a group of fellow super-powered criminals on another job that most would consider too reckless. The formula for the vaccine that gave them their abilities was supposedly destroyed years ago. But what if it wasn't?
The lines between good and bad, us and them, and freedom and entrapment are blurred as Ciere and the rest of her crew become embroiled in a deadly race against the government that could cost them their lives."
My Review:

I liked this way better than I thought it would. I've read bad reviews about it.

And the book just seemed so thick (but 406 pages is only half the length of the longest book I've read). It's written in 3rd person, present tense which seemed awkward. But you what? Niel Schusterman's Unwind series in in 3rd person present tense too and that series is a real page turner. Illusive it like other books I've read and loved and also unique in it's own way.
This is not a super hero book. The main characters are criminals. Not killers, but thieves. Ciere (pronounced See-Air) is an illusionist. She can make you see what's not there and not see what s actually there. Her power are not as strong as they were when she was a kid, but she's still pretty awesome. She's not that smart. A bit naïve despite her criminal actives, but ambitious. She's got a friend named Devon who's British and an eidos. He can memorize and recall anything. Daniel is another friend and he has the ability to elude danger. Kit, who's Ciere's mentor and handler can levitate himself.
There are also people who control their senses and body function, control other people, and read minds. They call the abilities immunities and the government considers these to be adverse effect since the abilities originated from a vaccine intended for a deadly virus. This epic world building is similar to Black Out by Robison Wells and Transparent by Natalie Whipple.
The plot was thrilling and non-stop action. The characters have to steal something. They work together. There's other character they meet. The supposed good guys may not be that great and you can't help but root for the antagonistic protagonists. Whether these criminals are just motivated by money or by the chance at freedom, they aren't all bad. Ciere thinks of Kit, Devon and the others in her crew as family.
You may enjoy Illusive if you enjoy books about super powered teens or supervillains like: Steelheart by Brander Sanderson, Black Out by Robison Wells, Transparent by Natalie Whipple, V is for Villan by Peter Moore, The Curse Workers Series (White Cat) by Holly Black, The Broken Hearted by Amelia Kahaney, Mind Games by Kiersten White, or books about thieves like The Heist Society by Ally Carter. Also, if you liked X-men and other superhero comics and movies and TV.
Cover Art Review: I love the 3D title and the shadow on it. The helicopter and the city. It's a dynamic cover.