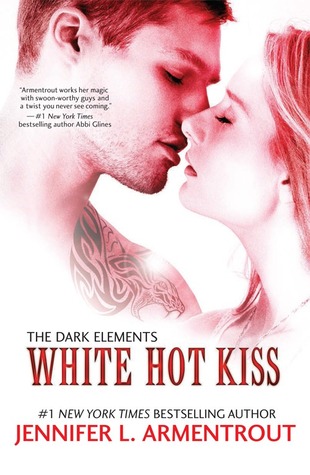 Series: The Dark Elements (bk. 1)
Genera(s): Paranormal Romance
Subjects: demons, gargoyles, supernatural, good vs. evil, love
POV/Tense: 1st person POV, past tense: Layla
Publisher: Harlequin Teen
Summary/ product description:
"One kiss could be the last
Seventeen-year-old Layla just wants to be normal. But with a kiss that kills anything with a soul, she's anything but normal. Half demon, half gargoyle, Layla has abilities no one else possesses.
Raised among the Wardens—a race of gargoyles tasked with hunting demons and keeping humanity safe—Layla tries to fit in, but that means hiding her own dark side from those she loves the most. Especially Zayne, the swoon-worthy, incredibly gorgeous and completely off-limits Warden she's crushed on since forever.
Then she meets Roth—a tattooed, sinfully hot demon who claims to know all her secrets. Layla knows she should stay away, but she's not sure she wants to—especially when that whole no-kissing thing isn't an issue, considering Roth has no soul.
But when Layla discovers she's the reason for the violent demon uprising, trusting Roth could not only ruin her chances with Zayne…it could brand her a traitor to her family. Worse yet, it could become a one-way ticket to the end of the world."
My Review:

I'm so glad I read this book because if my library never ordered it, I wouldn't have been aware of it's existence. I really loved this book. It was paranormal and with two hot guys. It's got demons and gargoyles aka Wardens, and mentions angels known as Alphas. The story is set in Washington D.C., which is a nice change of pace. I'm sick of books set in New York. This book took the paranormal romance/urban fantasy genera and made something really unique even if some parts are cliché as other people have mentioned. I gave this book 5 stars because I was never bored and was always excited to see what would happen next.
I loved the romance between Roth and Layla. Zayne is the guy Layla loves first, but he's more like a brother to her. He's sweet and nice, and cares for her, but not much happens between them. Roth, though a demon, is who really sets Layla's heart on fire. He over uses sexual innuendo, but he's smoking hot and saves her from demons. He helps her discover the truth about herself. He may be the baddest kind of bad boy, but his heart's in the right place when it comes to Layla, not just in his pants.
I have never read a book with gargoyles and it seemed like an odd kind of creature to have the mains character be, even though she's also half demon. I watched that she Gargoyles as a kid and they turned to stone in the sunlight and were nocturnal, like vampire. Horns and stone skin do not sound sexy. The author managed to make it work, but I had a hard time imagining what they looked like. The gargoyles sound like Nephilim or Gregori angels.
I've read a lot of books about demons (and angel especially) and that's what really made me want to read this. Also, a few years back I started a story called Dark Vessel about a girl named Layla who was destined to be the vessel for the demon Lilith. Did the author see my story on Figment and decided to make it different enough not to copy me? Unlikely, but still odd. I recommend this book to those who enjoyed angel & demon books such as Hush Hush, Fallen, Personal Demons, Sweet Evil, Halo, Embrace A Beautiful Dark and others.
Cover Art Review: Such a sweet couple on the cover. The guy is supposed to be Roth, but the hair is all wrong. I love the paper used for the cover. It's sparkly.