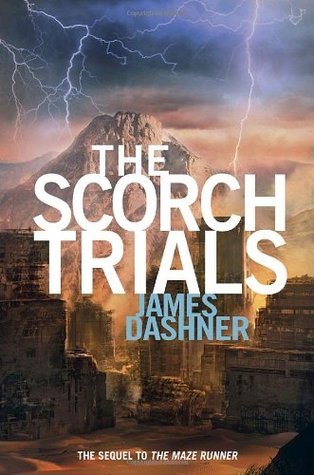 Series: The Maze Runner (bk. 2)
Genera(s): Dystopian Sci-fi
Subjects: survival, memory, adventure, experiments, deserts, post-apocalyptic
Setting: A desert wasteland, possibly in Mexico
POV/Tense: 3rd person POV, limited, past tense: Thomas
HC/PB: Hardcover, now in Paperback. Available in audio book and e-book.
Publisher: Random House: Delacorte Press
Summary/ product description:
"Solving the Maze was supposed to be the end.
Thomas was sure that escape from the Maze would mean freedom for him and the Gladers. But WICKED isn't done yet. Phase Two has just begun. The Scorch.
There are no rules. There is no help. You either make it or you die.
The Gladers have two weeks to cross through the Scorch—the most burned-out section of the world. And WICKED has made sure to adjust the variables and stack the odds against them.
Friendships will be tested. Loyalties will be broken. All bets are off.
There are others now. Their survival depends on the Gladers' destruction—and they're determined to survive."
My Review:

In honor of the Maze Runner movie coming to theater next month, I decided I had to finish the whole series before I see it. In order to do that, I went to the library and checked out the Scorch Trial audio book read by actor Mark Deakins. I own a hardcover copy of the book, but it was awesome with the audio book. Mark does. I listened to Maze Runner as an audio book. This series has the best audio book version I've ever listened too.
Now on to the story itself. The Scorch Trials was a good sequel. We find out more about WICKED's plans for the Gladers. They are meant for something bigger. We find out that the world in in distress and that there's a disease called the Flare that makes people go crazy. Thomas is missing Teresa and is really upset that she's not with him. There's this new guy named Aris that may be her replacement.
The Gladers are dropped into a desert landscape that's pretty much the opposite of what they experienced in the Maze. It's even more perilous and harsh, but there are no Grievers. It's hot and dry. Sunburns, dehydration and starvation are the main threats. Oh, and there's another group, one of all girls that may be out to kill the Gladers. Thomas and the Glader meet people who call themselves Cranks and have the Flare, along the way. They have to reach a safe haven a 100 miles North in order for this trial to be complete.
The Scorch Trials didn't wow me, but I still enjoyed it. I love the characters Minho and Newt the most, but Thomas is a good main character. I can't wait to see how Dylan O'Brian portrays him. I think that the Death Cure will be even more exciting and I can't wait to see how it all ends. I have a copy of the Death Cure which I plan to finish by September 19, which is when the movie comes out.
If you haven't read the Maze Runner series, it's similar to a book series called Taken by Erin Bowmen. I believe her book may have been influenced by The Maze Runner. I've read Eye Of Minds by James Dashner and that was good. James Dashner has really interest twist and sci-fi concepts and wonder world-building.
Cover Art Review: A desert mountain and a ruined city. Love the setting on the cover.