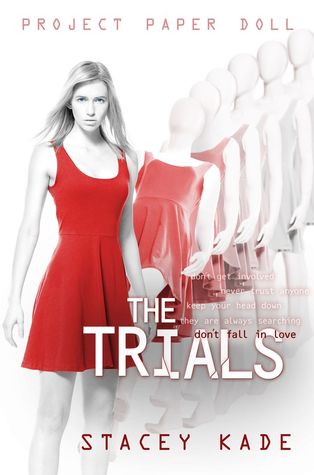 Series: Project Paper Doll (bk. 3)
Genera(s): Sci-fi/Romance
Subjects: aliens, extraterrestrials, genetic engineering, paranormal, psychic ability
POV/Tense: Rotating 1st person POV, past tense: Ariane Tucker and Zane Bradshaw
Summary/ product description:
"After being on the run, Ariane Tucker finds herself back where she started—under the cruel control of Dr. Jacobs, head of the research facility that created her. Now she must participate in the upcoming trials; a deadly competition pitting her against other alien hybrids, each representing a rival corporation.
But Ariane is no one's weapon. She is prepared to die if it means taking down those involved in Project Paper Doll. They destroyed all that she holds dear, including Zane Bradshaw, the one person she trusted and cared for the most—the person she was forced to leave behind, bleeding and alone.
As her plan takes shape Ariane will need to depend on, now more than ever, the other side of her heritage—the cold, calculated instincts born from her alien DNA. With Zane gone she has nothing left to lose.
With heart-pounding action, and plenty of surprises, the gripping conclusion to Stacey Kade's Project Paper Doll series delivers a powerful finish that will keep fans hooked to the very end."
My Review:

The Trials is the epic finale to the Project Paper Doll trilogy. Ariane goes to downtown Chicago to compete in the Trials with other hybrids, including Ford, Ariane clone/twin that Dr. Laughlin created. Ariane is Dr. Jacobs and GTX's "product." Ariane is going to use the trial agaist them to take down the companies and destroy Project Paper Doll.
Ariane thinks Zane is dead because of them, but we know something happened that might have changed him. When Zane shows up again, how different will he be? I really love Zane. He's a great, selfless guy and really cares for Ariane. Ariane is so tough. She put walls up and rarely lets anyone in. Ariane and Zane both vaughly remind me of Max and Fang from Maximum Ride.
I loved that this book is set in Chicago! I live in the western suburbs and am familiar with the city (but rarely get to go downtown). In the book they end up in a lot of real places, like the Museum of Science and Industry, a place I have not been to in over a decade because admission in indeed expensive. They go to Millenium park to see the Bean sculpture. The chrome/silver one that's huge. They do this because they are tracking someone. They also go to a few hotels. Real or not, I'm not sure.
The sci-fi elements are some of my favorites. Aliens. I'm kind of obsessed with them. I watch Ancient Aliens and the book make a vague reference to Giorgio Tsoukalos. A character named Justine says: People have been seeing UFOs for yeas….Centuries if you believe that guy with the big hair on TV. "
I also love book with characters that have superpowers or genetic modification. Maximum Ride, as I've mentioned before, is another series about a girl who has had her DNA manipulated. I love that series. This one I almost as good even through Ariane doesn't have wing and doesn't fly.
These books are a real thrill ride. Full of action and romance and crazy twists. I almost want more, but I feel the series is complete. I like the way it ended, but I wish we could have met the aliens that Ariene's extraterrestrial DNA came from. I'm excited to see what this author cooks up next. I still have not read her Ghost and The Goth series, but I do own signed copies of them. So I recommend this series to those seeking more books

about aliens and genetic engineering. Or just kickass heroines.
Cover Art Review: The mannequins are falling like dominos. And Ariane looks badass.