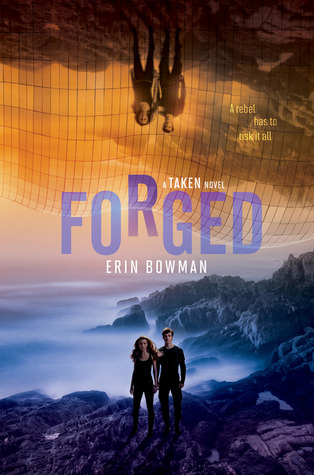 Genera(s): Dystopian Sci-fi
Subjects: post-apocalyptic, love, survival, adventure, resistance to government
Setting: What was once the USA, now called AmEast and AmWest
POV/Tense: 1st person POV, present tense: Gray Weathersby
Summary/ product description:
"The time has come to make a stand.
Gray Weathersby and his group of rebels are determined to bring down the Franconian Order. But they may be too late. The Order is closer than ever to its ultimate goal—building an unstoppable army—and every generation of Forgeries is more sophisticated, harder to detect, and deadlier than the one before.
Now the rebels have joined forces with new allies, the Expats. But when even the most familiar faces can't be trusted, Gray will have to tread carefully if he wants to succeed—or survive.
My Review:

Forged is the amazing finale to the Taken trilogy. Gray is working with the rebels, alongside Bree, his girlfriend, Blaine, his twin brother, and Emma, the girl from Claysoot. There are Forgeries out there that share their faces and that could trick them. Lots of stuff goes down in this book, finishing out the series with a bang. There are some thing I really loved about this series. One of those thing was Gray and Bree's relationship.
Bree is so tough. She's tougher than Gray, and Gray's brother Blaine jokes that Gray is the mean one. Bree is very strong willed and independent. She's like Katniss or Tris from Divergent or Darla from Ashfall. She's one of those kickass dystopian heroines. She may not be the narrator of the story, but she's just as important as the narrator, Gray. Gray is pretty interesting too. He grew up without technology, in a village that was an experiment (so did Bree and Emma). He's thrown into this world with guns and tech and Forgeries (which are like clones that have your memories). Both of them are now out to destroy their jailer, Dimitri Frank.
The world building has been pretty interesting, even if it share similarities to other series. The whole experimental societies idea is unique, but may share some characteristics with Maze Runner. If you loved that series, I'd recommend this one. I actually enjoyed this a lot more than Maze Runner. This series has more romance that many male driven narrative. Probably because the author is a woman. This series has something for guys and girl.
Some really terrible things happen in this book that scar characters both literally and figuratively. They has to go through some tough trial and tribulations. Some people even die. Lots of grief and tear-jerking moments. I don't want to scare you guys, so I'll let you know that the ending is happy. This is not an Allegiant-like ending. So there's your only spoiler. This is an action-packed adventure with crazy twists and funny moments of dialogue. If you loved the previous books, this one won't disappoint.
Cover Art Review: I like the gradiated color. The complimentary colors of yellow-orange and indigo. I love the landscape and the figures and that strange structure of windows.