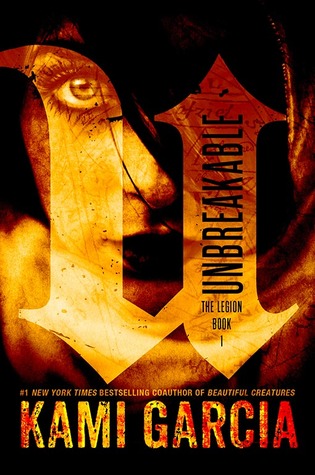 Series: The Legion (bk. 1)
Genera(s): Paranormal Romance/Horror
Subjects: supernatural, ghosts, ghost hunters, secret societies, demons, demonology, love
Setting: Washington DC, Virginia, Maryland, West Virginia
POV/Tense: 1st person POV, past tense: Kennedy Waters
HC/PB: Hardcover and in Paperback
Publisher: Hachette: Little, Brown
Summary/ product description:
"Supernatural meets The Da Vinci Code in this action-packed paranormal thriller, the first book in a new series from New York Times bestselling author Kami Garcia.
I never believed in ghosts. Until one tried to kill me.
When Kennedy Waters finds her mother dead, her world begins to unravel. She doesn't know that paranormal forces in a much darker world are the ones pulling the strings. Not until identical twins Jared and Lukas Lockhart break into Kennedy's room and destroy a dangerous spirit sent to kill her. The brothers reveal that her mother was part of an ancient secret society responsible for protecting the world from a vengeful demon — a society whose five members were all murdered on the same night.
Now Kennedy has to take her mother's place in the Legion if she wants to uncover the truth and stay alive. Along with new Legion members Priest and Alara, the teens race to find the only weapon that might be able to destroy the demon — battling the deadly spirits he controls every step of the way.
Suspense, romance, and the paranormal meet in this chilling urban fantasy, the first book in a new series from Kami Garcia, bestselling coauthor of the Beautiful Creatures novels."
My Review:

What if the Winchesters from Supernatural were teenage twin brothers and part of a secret society called the Legion and the story was told from the perspective of a teen girl? That's basically what this book is like. I like the main character. Kennedy has a unique combination of talents. She's not only a really talented artist, but she also has a photographic memory. After her mother dies, she's devastated. A few weeks later she plans to go to a boarding school, but plans change when a spirit attacks her in her house and two guys show up and shoot the spirit. Jared and Lukas hunt the paranormal and are part of the Legion.
Kennedy travels with them to meet the other two Legion members, Alara and Priest.

These teens all recently suffered the loss of their mentors, which are a family member, so now the Legion is made up of these teens. Alara is really interesting. He grandma taught her some voodoo spells and portions to ward off evil. She hates the color pink. Priest is goofy and invents weapons to destroy evil spirits. Jared fights and Lukas searches for paranormal activity. They believe Kennedy is the 5th member of Legion, but she doesn't believe it.
The plot is mainly about the teens visiting haunted places in search for pieces of a weapon that can supposedly destroy a demon. Some of the spirit they meet along the way a vengeance spirits and evil, while others are innocent and benign. They destroy or help. Some creepy stuff happens, but it's pretty thrilling and exciting. This book is a perfect Halloween read or dark-and-stormy-night read. It's not so creepy you'll get the chills, but creepy enough.
This book and Anna Dressed in Blood are the only YA books I can truly say are similar to my favorite TV show, Supernatural. So what's with all the bad reviews on Goodreads? This is a good book! I recommend it to those who love YA paranormal and Supernatural. There's evil spirits and demons and symbols and devil's traps! Also, recommend it to fans of shows like Ghost Adventures, Ghost Hunters, Constantine, Grimm and other paranormal shows and horror movies. Also if you liked the Ghost Huntress series.
Cover Art Review: The cover is great with the big gothic U and the face and colors, but I'm still kind of jelous of this UK edition with Kennedy on the front: