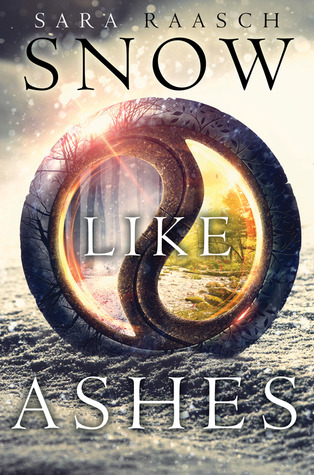 Series: Snow Like Ashes (bk. 1)
Subjects: magic, seasons, winter, royalty, kingdoms, adventure, war, princes and princesses, king and queens, warriors, rebellions, slavery, orphans
Setting: The Kingdoms of Primoria
POV/Tense: 1st person POV, present tense: Meira
Publisher: HarperTeen: Balzer & Bray
Summary/ product description:
"A heartbroken girl. A fierce warrior. A hero in the making.
Sixteen years ago the Kingdom of Winter was conquered and its citizens enslaved, leaving them without magic or a monarch. Now, the Winterians' only hope for freedom is the eight survivors who managed to escape, and who have been waiting for the opportunity to steal back Winter's magic and rebuild the kingdom ever since.
Orphaned as an infant during Winter's defeat, Meira has lived her whole life as a refugee, raised by the Winterians' general, Sir. Training to be a warrior—and desperately in love with her best friend, and future king, Mather — she would do anything to help her kingdom rise to power again.
So when scouts discover the location of the ancient locket that can restore Winter's magic, Meira decides to go after it herself. Finally, she's scaling towers, fighting enemy soldiers, and serving her kingdom just as she's always dreamed she would. But the mission doesn't go as planned, and Meira soon finds herself thrust into a world of evil magic and dangerous politics – and ultimately comes to realize that her destiny is not, never has been, her own."
My Review:

This extremely unique and thoroughly entertaining fantasy novel is a must read. I did not wknow what to expect going into it, but I loved it! Meira is such a funny, relatable character. She know's she's not perfect, but she is pretty kickass with a chakram. Some people have compared her to Zena Warrior Princess (which I never saw). Meira seems like any teenage girl who wants some guy to love her and wants to do what she's always dreamed of. (Her character voice/narration reminded me of Alina Starkov and Rose Hathaway) She wants to be a warrior and to know the kingdom that she came from. The king of Spring has destroyed that.
The world building was pretty amazing. Set in a world that is completely different from our own, it's complex and simple at the same time. There's a nice may inside the book drawn by the same person that did the map in Exquisite Captive. There are four Season Kingdoms, (west to east) Summer, Autumn, Winter, and Spring. Honestly, if I made this world I'd have the season arranged in a circle with a mountain power source in the center so that spring and summer where near each other instead of furthest away.
There are also four kingdoms that have normal rotating season, know as the Rhythmus. Spring has an evil ruler, which is funny because when you think of spring, it's usually a happy time of year, but also usually rainy or stormy. Winter (the usual least favorite season because horrible driving conditions) has been taken over by spring and Winterians are in work camps. Each kingdom has a magical conduit (object with power in it) and winter's was destroyed (a locket broken in half). There's even more to this world and you'll find out once you read the book.
There's also something major that you find out in the book. About a character. I predicted this would happen from about page 100, maybe sooner. It started as a hunch, but when it come to YA books these plot twist hunches are always right for me. Obvious or un-obvious, it's maybe foreshadowing by the author, possible clichés or my psychic-ish ability to predict what the author is going for (Like I did with Cinder, Shadow and Bone, and recently, Messenger of Fear). I was happy because it makes this book even more epic. I will not say what it is because I don't want to spoil it but when you anticipate it make the book more exciting.
Now it's excited for book two (

Prediction

for sequel's title: Frost Like Fire, Ice Like Fire, Ice Like Flame). Anyways, it's just about winter. It's November and it snowed already, so this could be the perfect read for winter even when it's not set in Winter. Fans of Shadow & Bone (Grisha Trilogy), The Young Elites by Marie Lu, Incarnate by Jodi Meadows, Girl of Fire and Thorns by Rae Carson, and others fantasy YA books may enjoy this. Also Frozen and Once Upon a Time fans may like it because the wintery magic.
Cover Art Review: Love this cover. The Chakram made me this it was a Japanese fantasy, but it's high fantasy like The Young Elites or Shadow & Bone. It's metallic and really beautiful photos are used.