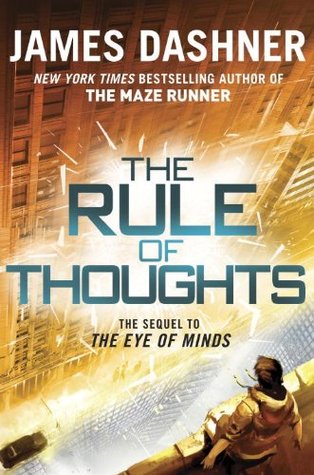 Series: The Mortality Doctrine (bk. 2)
Genera(s): Dystopian Sci-fi/Action-Adventure
Subjects: action, adventure, artificial intelligence, gamers, games, hackers, technology, thriller, video games, virtual reality
Setting: The VirtNet, New York City and Atlanta, Georgia
POV/Tense: Limited 3rd person POV, past tense: Michael
Publisher: Random House: Delacorte Press
Summary/ product description:
"From the New York Times bestselling author of the Maze Runner series comes The Rule of Thoughts, the exciting sequel to The Eye of Minds. Fans of the Divergent series by Veronica Roth and The Hunger Games will love the new Mortality Doctrine series.
Michael completed the Path. What he found at the end turned everything he'd ever known about his life—and the world—completely upside down.
He barely survived. But it was the only way VirtNet Security knew to find the cyber-terrorist Kaine—and to make the Sleep safe for gamers once again. And, the truth Michael discovered about Kaine is more complex than they anticipated, and more terrifying than even the worst of their fears.
Kaine is a tangent, a computer program that has become sentient. And Michael's completing the Path was the first stage in turning Kaine's master plan, the Mortality Doctrine, into a reality.
The Mortality Doctrine will populate Earth entirely with human bodies harboring tangent minds. Any gamer who sinks into the VirtNet risks coming out with a tangent intelligence in control of their body.
And the takeover has already begun."
My Review:

This is such a creative and interesting dystopian series. The fist book blew my mind. This one continued from where it left off. It makes you question reality. Michael was a Tangent. An AI in Lifeblood Deep and he never knew it. Now he's been downloaded into a real body and experiencing real life for the first time, but it's not all that different. He has to find his friends in the real world so they can go to VNS and stop the Tangent called Kaine. When he meets Sarah for real, some bad stuff happens and they have to leave and find Bryson. When the threesome and together, even more trouble happens. Michael, who's in the body of a boy named Jackson, has a warrant out for his arrest because they think he's a cyberterrorist.
I love all the games and worlds of the VirtNet. I'm not a gamer, but I love the idea of being whisked away into a different world, even if it's only virtual. People can change their appearance and do cool stuff they couldn't do in real life. Also, Michael and his friends know how to hack the VirtNet, which is illegal, but useful. This book is all action and adventure. Lots of stuff happens. So much happened that I cannot even remember what else I wanted to say. Just know that it's a great sequel. Not as good as the first book because that one blew my mind, but still awesome.
I definitely enjoy this series more than the Maze Runner series. There's a lot more tech stuff. I noticed how in the book The Kill Order, which is the Maze Runner prequel, VirtNet and NetTabs and whatnot are mentioned too. So, is Eye of Minds on the same time line as The Maze Runner? Is this the pre-flare world? If so, then I wonder if the 3rd book will end with the VirtNet being destroyed by the solar flare. James Dashner, you are one devious world-builder and plotter. I'm onto you!
I recommend this to fans of James Dashner. Also people who enjoyed these books: Elusion by Claudia Gabel and Cheryl Klam, Insignia by S.J. Kincaid, and Mila 2.0 by Debra Driza. Fans of the Matrix movies, and Transendence and any sci-fi movie about technology will enjoy this. If this series even became a movie I'm sure it would be even more epic than the Maze Runner.
Cover Art Review: Good illustration but the title is less interesting looking this time.