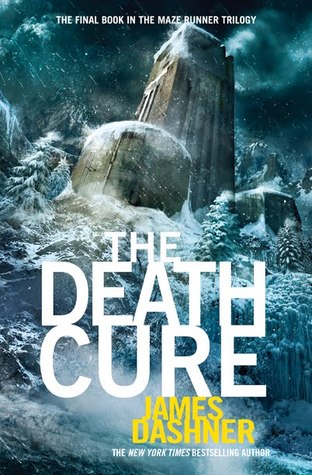 Series: The Maze Runner (bk. 3)
Genera(s): Dystopian Sci-fi
Subjects: survival, memory, adventure, experiments, deserts, post-apocalyptic
Setting: Denver, Colorado, and other places
POV/Tense: 3rd person POV, limited, past tense: Thomas
HC/PB: Hardcover, now in Paperback. Available in audio book and e-book.
Publisher: Random House: Delacorte Press
Summary/ product description:
"It's the end of the line.
WICKED has taken everything from Thomas: his life, his memories, and now his only friends—the Gladers. But it's finally over. The trials are complete, after one final test.
What WICKED doesn't know is that Thomas remembers far more than they think. And it's enough to prove that he can't believe a word of what they say.
The truth will be terrifying.
Thomas beat the Maze. He survived the Scorch. He'll risk anything to save his friends. But the truth might be what ends it all.
The time for lies is over."
My Review:

In honor of the Maze Runner movie coming to theater next month, I decided I had to finish the whole series before I see it. In order to do that, I went to the library and checked out the Death Cure audio book read by actor Mark Deakins. I own a hardcover copy of the book, but it was awesome with the audio book. Mark does. I listened to Maze Runner as an audio book. This series has the best audio book version I've ever listened too. I enjoyed when he did Newt's voice especially. So many different accents and it's hard to tell that this is all the same guy's voice.
This was an interesting ending. Not nearly as good as the first book, but still really awesome. Lots of action and world building. I like that this one is set in a real city, even if it's a future dystopian version of it. I've been to Denver once (back in 2003, before 6th grade). It was a nice city. A lot different from Chicago because it's by mountains instead of a lake. This is a very sad version of Denver though because the flare virus is running rampant. This series is a very complex kind of dystopian in which there's a government agency called WICKED and there's a virus that drives people into cannibalistic madness and climate change caused by a solar flare.
I like the characters, but it's not to crazy about the main character Thomas. As I said before, I think Dylan O'Brien playing him will make him so much more awesome. He just seemed too kind and naïve in this series, but he experiences a loss of innocence when he's forced to do something he'd probably never image doing. It's partially because he doesn't have his memories back. He's just a new person learning to live and survive. He's grown since Maze Runner, but he's got a great big heart. He uses the slag he's picked up from the other Gladers a lot. He has important friendship and a little romance too. He's not into Teresa anymore romantically since being with Brenda.
There's were some very sad deaths in this book. Some things that were left unresolved. I kind of disappointed. This isn't my favorite dystopian series, but I did enjoy it. As a movie series it'll probably be awesome. The Hunger Games was not one of my favorite dystopian series, but I loved the movies, so I'm hoping it'll be awesome. I hope they don't split The Death Cure into two parts. It would be so unnecessary because not that much happens until near the end. I still have to read the prequel book, The Kill Order, so I'll see how that clears up the book.
If you haven't read the Maze Runner series, it's similar to a book series called Taken by Erin Bowmen. I believe her book may have been influenced by The Maze Runner. I've read Eye Of Minds by James Dashner and that was good. James Dashner has really interest twist and sci-fi concepts and wonder world-building.
Cover Art Review: A tower and a snowy mountain? Pretty awesome looking.