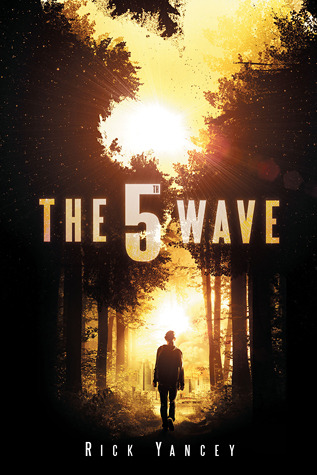 Series: The 5th Wave (bk. 1)
Genera(s): Dystopian Sci-fi
Subjects: post-apocalyptic, aliens, survival,
POV/Tense: 1st person POV present and past tense, rotating by part between Cassie and Ben, with interludes of 3rd person POV of Evan and Sammy
Publisher: Penguin: Putnam
Summary/ product description:
"After the 1st wave, only darkness remains. After the 2nd, only the lucky escape. And after the 3rd, only the unlucky survive. After the 4th wave, only one rule applies: trust no one.
Now, it's the dawn of the 5th wave, and on a lonely stretch of highway, Cassie runs from Them. The beings who only look human, who roam the countryside killing anyone they see. Who have scattered Earth's last survivors. To stay alone is to stay alive, Cassie believes, until she meets Evan Walker.
Beguiling and mysterious, Evan Walker may be Cassie's only hope for rescuing her brother—or even saving herself. But Cassie must choose: between trust and despair, between defiance and surrender, between life and death. To give up or to get up."
My Review:

The 5th Wave is an awesome sci-fi read. I have not read many books about post-alien invasions, and this one was an interesting take. I loved the characters. Cassie's inner dialogue is fun and makes the story more excited. I even like Ben's narration. He's less sarcastic, but still interesting.
I loved the plot and the setting and pretty much everything but the length and the way that perspectives were rotated without us know whose perspective it was. Cassie's in the woods of Ohio trying to avoid Silencers. Ben is at Camp Haven, which is like a military facility where they're training children to fight. They call the aliens "infesteds" and "Teds." The perspectives are switched between parts instead of chapters. Cassie is trying to find her little brother, Sammy, and Sammy ends up in Camp Haven and meets Ben, who is now called Zombie.
This book would be perfect as a movie. Some people think alien invasions are so over-done, but this books is like The Host in that the aliens are sort of inserting themselves into human bodies. There's minimal advanced technology. There's a mothership in the sky, and these drone liked eyes. This book is more about living in a world where you can't trust anyone. There's a lot of deception and fighting for survival. There's moment where Cassie has to make hard choices. There's also romance, but not too much. There's a lot of military stuff, if you like that.
I wish I read this book sooner. I enjoyed it and recommend it to fans of Icons by Margaret Stohl and other YA books that feature aliens. If you love alien movies, you may like this too.
Cover Art Review: I love the velvet texture and the metallic-ness of the cover jacket. The photo is beautiful and creepy and the same time and I love how the title looks. This could be a movie poster, it's so good.