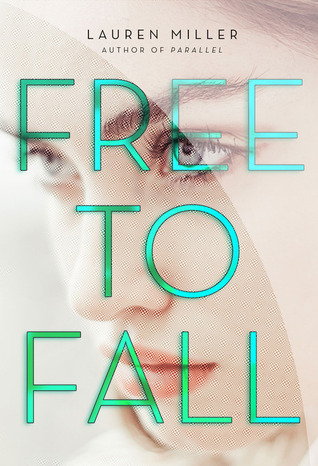 Genera(s): Near-Future Dystopian Sci-fi Thriller
Subjects: technology, conspiracies, boarding schools, secret societies, mystery, brainwashing
Setting: Seattle, Washington, and then Theden, a boarding school in Massachusetts
POV/Tense: 1st person POV, paste tense: Rory Vaughn
Summary/ product description:
"
What if there was an app that told you what song to listen to, what coffee to order, who to date, even what to do with your life—an app that could ensure your complete and utter happiness? What if you never had to fail or make a wrong choice?
What if you never had to fall?
Fast-forward to a time when Apple and Google have been replaced by Gnosis, a monolith corporation that has developed the most life-changing technology to ever hit the market: Lux, an app that flawlessly optimizes decision making for the best personal results. Just like everyone else, sixteen-year-old Rory Vaughn knows the key to a happy, healthy life is following what Lux recommends. When she's accepted to the elite boarding school Theden Academy, her future happiness seems all the more assured. But once on campus, something feels wrong beneath the polished surface of her prestigious dream school. Then she meets North, a handsome townie who doesn't use Lux, and begins to fall for him and his outsider way of life. Soon, Rory is going against Lux's recommendations, listening instead to the inner voice that everyone has been taught to ignore — a choice that leads her to uncover a truth neither she nor the world ever saw coming."
My Review:

I have not read a book with such a unique, solid, thought-provoking concept as the one behind Free To Fall. It's relevant, realistic and completely possible. An app than can make choices for you? I surprised it doesn't already exist. The Lux in like Siri, but in your own voice and it make decision for you based off of algorithms that weight opportunities, threats, strengths and weaknesses. I can choose what you eat, wear and do and you don't have to think for yourself. It promises an easy and happy life. Sounds to good to be true. The Lux manipulates its users. It was created by the company Gnosis, which replaces Apple and almost all other tech companies.
The main character, Rory, constantly uses Lux to make her decisions. Rory herself is smart and study-happy. She likes math and other school subjects. She's amazed when she gets into Theden. Theden is full of secrets and it uses Gnosis technology in the classroom.

Rory has a roommate named Hershey, which is a very odd odd, unique name for a girl.
Rory and Hershey go to a off campus café the first day a Theden and meet a guy named North. I love North, despite his strange hairstyle and tattoos. He's not the kind of guy that Rory expected herself to like, but he turns out to pretty a pretty great guy. He's into music and older computer technology. The romance is not instantaneous, but Rory has a desire to be with him instead of the guys at her school early on.
This book was full of the unexpected. There are conspiracies and secret societies and riddles and simulations. They're all kind of strange thing. It's not just one genera. It's Dystopian sci-fi, but very near-future. It's a thriller and a mystery and romantic. I read that this book started out as a script for a TV show. I can see how that's likely. It would be awesome as a TV show or even a movie. It makes you think and it show us that it's sometimes better to get away for technology. I see everyone on their smart phone when all I have is a cheap cell phone that can't access the internet. I get jealous, but then I realize I don't want to be leashed to my phone. I love my computer, but I like real books and nature too.
The climax was awesome and the book ended in a way that let us know that t is a standalone. I never expected to like this book as much as I did. The cover and the synopsis made it sound like it was contemporary. I'm so glad I gave this book a chance and I hope other sci-fi fans out there give it a chance too. I read Paralle by Lauren Miller last year and liked it, but this was even better. Lauren Miller know how to conceptualize a story and then bring it to life. If you enjoyed The Program by Suzanne Young, Divergent by Veronica Roth, Elusion by Claudia Gabel and Cheryl Klam, then you may enjoy Free To Fall.
Cover Art Review: Kind of plain. The pixel effect is cool, but it's not really eye catching. It fits the subject, but I wish is was shiny or had a more interesting image on it.