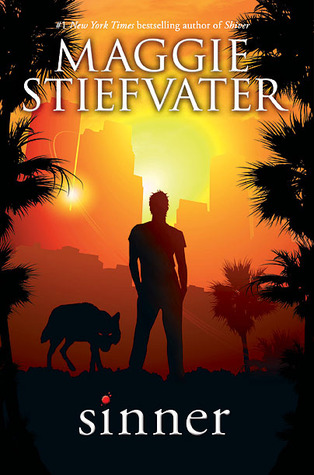 Publication Date: July 1st, 2014
Series: Wolves of Mercy Falls (bk. 4) or a Standalone Spin Off/Companion
Genera(s): Contemporary/Paranormal Romance
Subjects: werewolves, musicians, reality shows, fame, love
Setting: Los Angeles, California, Venice Beach, Santa Monica, and the greater L.A. area
POV/Tense: 1st person POV past tense, rotating between Cole and Isabel
Summary/ product description:
"A standalone companion book to the internationally bestselling Shiver Trilogy.
Sinner follows Cole St. Clair, a pivotal character from the #1 New York Times bestselling Shiver Trilogy. Everybody thinks they know Cole's story. Stardom. Addiction. Downfall. Disappearance. But only a few people know Cole's darkest secret -- his ability to shift into a wolf. One of these people is Isabel. At one point, they may have even loved each other. But that feels like a lifetime ago. Now Cole is back. Back in the spotlight. Back in the danger zone. Back in Isabel's life. Can this sinner be saved?"
My Review:

Sinner is a fun, exciting companion/spin-off to the Wolves of Mercy Falls series. It rotates between Cole and Isabel POVs and is set in L.A. A far cry from Minnesota where the previous books took place. I enjoyed the book thoroughly, but it was nothing like I expected. I loved it, but was slightly disappointed because it was so different from Shiver, Linger and Forever. This book still deserves 5 stars. I love the characters so much and it's great that Isabel and Cole get their own book about only their relationship.
Cole seems as sunny and exciting as his new L.A. home. He's always saying and doing the craziest things. Befriending his driver, Leon. Firing the guitarist and bassist that Baby hired for him. Using phrases that normal people wouldn't use in conversation. Cole's great at improvising and acting. He can also come up with lyrics out of pretty much anything. Cole is so different from Sam in Shiver. He craves attention and the crowd. I love his narration. He's like the most interesting guy in the world. He's got charisma, humor, hotness and depth.
Isabel is very angry and doesn't seem to care about anything. She's logical and icy. She wants to be a doctor. She's working at a clothing store, and taking a CNA class. She's living with her mom, Aunt Lauren and cousin Sofia, who loves to cook for others. She misses Cole, and Cole surprises her at work with his presence. Isabel's life has been pretty complicated too. Her brother was a werewolf and he was killed back in Minnesota. Her parents are breaking up. He cousin keeps trying to do stuff for her, but Isabel yells at her. Cole and Isabel try to do stuff together, but sometimes the cameras get in the way and they have to find private places, like the bathroom, to talk.
Sinner is less focus of the werewolf stuff and more focused on Cole's return to fame and him relationship with Isabel. The story is about Cole dealing with being famous again and making an album. This book has barely any paranormal stuff. Shifting is more like Cole's addiction since he doesn't do drugs or drink anymore. Cole become part of a web reality show ran by a lady named Baby who loves to ruin the lives of her subjects. She wants him to look like a mess for good TV. Cole's running around, doing the crazy thing she suggests. Things that rock stars are supposed to do, and things that someone like Cole St. Clare would do.
Sinner is nothing like you'd expect it to, and everything you never knew you'd want. If this was a contemporary book in which the shapeshifting was replaced with drug using, I still would love the book because it's written that well. Fame games and fans. Rockstars, music, and all kinds of crazy. I recommend it to fans of Maggie Stiefvater's other books. Also if you liked Audrey, Wait by Robin Benson, which is a contemporary book about a rockstar and his girlfriend (From Audrey's perspective), thing book has some similar appeal.
Cover Art Review: I like this vector color with the gradients and silhouette of Cole, a wolf and palm trees and buildings. Goes with the other covers, yet is different.