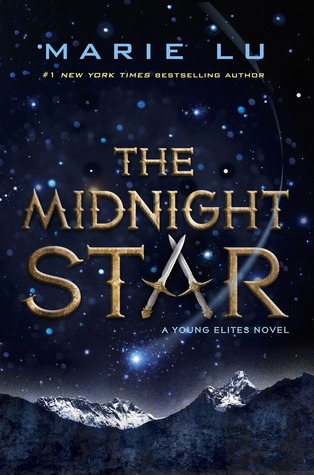 Series: The Young Elites (bk. 3) final book
Genera(s): High Fantasy/Paranormal Romance/Dystopian Sci-fi
Subjects: magic, supernatural, abilities, superpowers, kingdoms, royalty,
Setting: A fantasy world, the island of Kenettra
POV/Tense: 1st peson POV, present tense: Adelina Amouteru, and 3rd person intermissions of other characters.
Publisher: Penguin: Putnam
Summary/ product description:
"There was once a time when darkness shrouded the world, and the darkness had a queen.
Adelina Amouteru is done suffering. She's turned her back on those who have betrayed her and achieved the ultimate revenge: victory. Her reign as the White Wolf has been a triumphant one, but with each conquest her cruelty only grows. The darkness within her has begun to spiral out of control, threatening to destroy all she's gained.
When a new danger appears, Adelina's forced to revisit old wounds, putting not only herself at risk, but every Elite. In order to preserve her empire, Adelina and her Roses must join the Daggers on a perilous quest—though this uneasy alliance may prove to be the real danger."
My Review:

The Midnight Star is the epic finale to the Young Elites trilogy. If you have not read the Young Elites, then I recommend it if you are a fan of any of these books: The Orphan Queen by Jodi Meadows, Shatter Me by Tahereh Mafi, Crewel by Gennifer Albin, The Jewel by Amy Ewing, Defiance by C.J. Redwine, Snow Like Ashes by Sarah Raasch and the Red Queen by Victoria Avyard. This series is an epic fantasy that is very unique. The Young Elites have abilities caused by the blood fever. It's said that they are connected to the God and their ability comes from the immortal realm. Other people believe they are demons and call them malfettos. Adelina has the power to create illusions, including both visual and sensual. Her hair is silvery white and she has a scar where one of her eyes should be. These are the markings of the blood fever.
In this final chapter, Adelina, know throughout the lands as the White Wolf, have become a conquering queen. She already took the throne of Kenettra and extended her rule to Dumor. She now has her sites set on Tamoura. She hears word that her sister Violetta is in Tamoura and she's sick. Violetta, who has never bared a mark before, is not covered in dark veins and seems very weak. Her ability is to take away Elite abilities.
Raffaele and others from the Daggers are there too and once Adelina, Magiano, and Sergio get there, Raffaele tries to convince Adelina of a plan that involves them going to the immortal realm to fix the damage that it's causing to the mortal realm. It's an hard journey and they must find other Elites that can help them. Can Adelina abandon her cruelty and find the compassion to help save their world and forgive her sister?
This very unique fantasy series has some very unique characters that are not clichés or Mary Sues. It's very diverse and different. It feels like a manga, with the strange colored hair, eyes and markings. This series would be perfect as a manga or graphic novel. The world building is creative. The world is different, with it's three moon instead of our one. The mythology of their gods is woven with detail and share similarities to Roman and Greek mythology. Marie Lu put a lot of work into this series. I hope that we get to see it in some visual format be it a graphic novel, movie of TV series. I will miss this beautiful and dark fantasy series greatly.
Cover Art Review: Nice cover. Fits with the series.