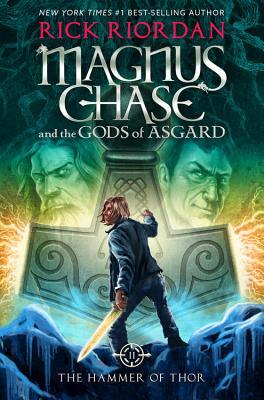 Series: Magnus Chase and the Gods of Asgard (bk. 2)
Genera(s): Paranormal Fantasy adventure with mythology
Subjects: adventure, fantasy, gods, magic, mythology, Norse mythology, paranormal, summer, supernatural, Valkyries, gods and goddesses, Massachusetts, humor
Setting: Boston, Massachusetts, and the world of Norse Mythology, Valhalla, and the Nine Worlds
POV/Tense: 1st person POV, past tense: Magnus Chase
Age/Grade Level: Teen, maybe younger, middle school and up?
Summary/ product description:
"Thor's hammer is missing again. The thunder god has a disturbing habit of misplacing his weapon--the mightiest force in the Nine Worlds. But this time the hammer isn't just lost, it has fallen into enemy hands. If Magnus Chase and his friends can't retrieve the hammer quickly, the mortal worlds will be defenseless against an onslaught of giants. Ragnarok will begin. The Nine Worlds will burn. Unfortunately, the only person who can broker a deal for the hammer's return is the gods' worst enemy, Loki--and the price he wants is very high."
My Review:

The Hammer of Thor is the hilarious and fun sequel to the Sword of Summer in Rick Riordan's Magnus Chase series. Like all of Rick's YA and MG books, it takes mythology and puts it in modern day and add funny twists. In this sequel, Thor's hammer was stolen, likely by giants since they're the ones who've done it in the past, and Thor's wants Magnus and his friends to get it back.
Magnus is the demi-god son of the Norse god Frey and cousin of Annabeth, daughter of Athena, from the Percy Jackson series. His friends are Samirah, a muslim girl who moonlights as a Valkyrie, retrieving souls of fallen heroes. There's Blitzen, a drawf with a great fashion sense and Hearthstone, a deaf elf with an affinity for rune-stone magic. There's the einherji, the fallen heroes that live on the same floor as Magnus: T.J, Halfborn, and Mallory. They gain a new ally who's an einherji too named Alex. Alex is a child of Loki like Samirah, but Alex is a gender-fluid argr, and usually a girl, but sometimes has very male days. Alex shape-shifts into animal often, but doesn't have control of when she's male or female. It's very confusing.
They go on a journey through the nine worlds. They have to find a special sword and the stone that sharpens the blade. They travel from Midgard to Alfheim, Jotunheim, and Asgard. It's a dangerous quest full of perils like angry elves, bowling giants, and gods who take selfies with a phablet using a sword as a selfie-stick. It's a fun thrill-ride and never boring, but it took me a while to get through this book. It's not fast-paced because you have to really work to picture some of the silly stuff that happens, and sometimes it get wordy. I really enjoyed it, but I was pretty busy and it took me two weeks to finish this.
If you have read and enjoyed Loki's Wolves, Odin's Ravens, and Thor's Serpent by Kelley Armstrong and Melissa Marr, then I highly recommend this book. Also fans of the Thor movies, or anything myth-related. Norse Mythology is hot and different from the Greek stuff. This book is fun and you will learn about Norse Mythology, even if Rick has twisted it a little.
Cover Art Review: Great illustration! Very typical of Rick Riordan books.