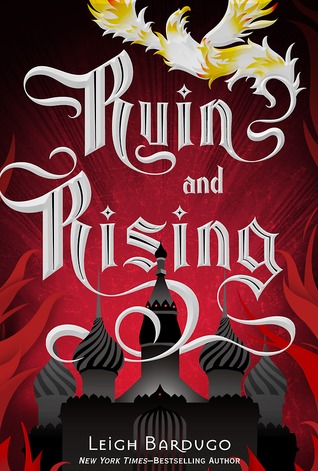 Series: The Grisha Trilogy (bk. 3)
Subjects: abilities, magic, kingdoms, good vs. evil, war
Setting: A high fantasy world, the kingdom of Ravka and surrounding countries
POV/Tense: 1st person POV, past tense: Alina Starkov
HC/PB: Hardcover, now in Paperback
Publisher: Macmillan: Henry Holt
Summary/ product description:
"The capital has fallen.
The Darkling rules Ravka from his shadow throne.
Now the nation's fate rests with a broken Sun Summoner, a disgraced tracker, and the shattered remnants of a once-great magical army.
Deep in an ancient network of tunnels and caverns, a weakened Alina must submit to the dubious protection of the Apparat and the zealots who worship her as a Saint. Yet her plans lie elsewhere, with the hunt for the elusive firebird and the hope that an outlaw prince still survives.
Alina will have to forge new alliances and put aside old rivalries as she and Mal race to find the last of Morozova's amplifiers. But as she begins to unravel the Darkling's secrets, she reveals a past that will forever alter her understanding of the bond they share and the power she wields. The firebird is the one thing that stands between Ravka and destruction—and claiming it could cost Alina the very future she's fighting for."
My Review:

Ruin and Rising is the final book in the Grisha Trilogy. I read the 1st Grisha book, Shadow and Bone months before it's release, met the author and a pre-pub event in Naperville and gave her her first piece of fan art ever. (I feel like a bad fan!)
Only now did I read the second and third books. Siege and Storm was a pretty good sequel, and Ruin and Rising was a great finale.
Alina's hair turned white at the end of Seige and Storm. Why are there so many fantasy books with white-haired girls? Anyways, her abilities don't seem to be working and now she's stuck in a cave with a bunch of people who think she's a living saint. The Apparat doesn't seem to like her friends and claims they are plotting against her when actually they were all just trying to break out and her Alina get some sunlight in hopes of her being able to summon again. Once they get out, they have to find Nikolai, find the firebird aka the third amplifier, defeat the Darkling and destroy the Shadowfold. They got a lot on their shoulders.
I really like this fantasy series because it's so unique. Ravka is supposed to be like imperial Russia. The palace looks Russian with onion domes. The language appears to be Russian. Rather than just swords, there are pistols. It's more like the 1800s than the middle ages.
The characters are pretty great. Alina is kind of stubborn like many YA female heroines. Her powers are cool. She can control light (summon sunlight). Mal is a tracker. He's not grisha, but her loves Alina. He's pretty funny and I love the romance and banter between them. Nikolai, who pretended to be a privateer named Strumhond in the second book, in a prince and very funny and clever. He likes to build things, and comes up with crazy ideas and plans. He made ships that can fly with the help of Squaller grisha. The Darkling, who is the villain, is complicated. I liked him in the first book, but I'm not a fan of him. He can control shadows and darkness. Genya is a tailor is can change people's appearance. David is a Durast and Genya's boyfriend. He's very smart and jokes go over his head. There are lots of other characters, like Zoya, Tamar, Toyla, Nadia, and more.
The ending was both surprising and not. I kind of saw some connects, especially Mal's. There's a lot of action and scary heart-pounding moments.
I'm sure every body's read this series by now if they read YA, but if you haven't, I recommend it to fans of Red Queen, The Young Elites, The Orphan Queen and Throne of Glass.
Cover Art Review: Very nice vector illustration with textures. The title type is nicely rendered and very unique.