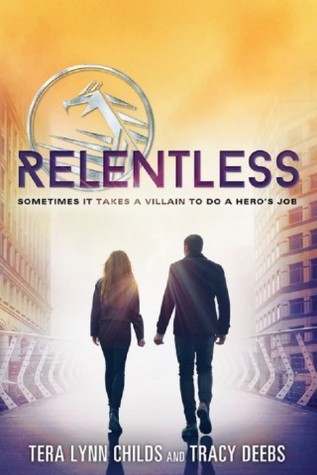 Series: The Hero Agenda Duology (bk. 2)
Genera(s): Sci-fi/Romance
Subjects: superheroes, supervillians, abilities, superpowers, conspiracies
Setting: Boulder, Colorado
POV/Tense: 1st person POV, present tense: Kenna Swift
Publisher: Sourcebooks Fire
Summary/ product description:
"Revenge is easy, but justice is worth fighting for…
Kenna is tired of being lied to—and hunted by the very allies she once trusted. Unearthing the dark secrets of the superhero world has not only endangered her life, now her boyfriend faces execution for crimes he didn't commit and her mother is being held captive in a secret governmental prison.
Kenna is determined to stand up for what's right and save those she loves from unspeakable fates. It's time for the betrayal to end. It's time for the real criminals to face justice.
But the truth is even more terrifying than Kenna could imagine. A conspiracy threatens the fate of heroes, villains, and all of humanity. If Kenna's going to survive, she must draw on her deepest strength: her resilience. Because when Kenna's pushed to the limit, she doesn't break down. She fights back."
My Review:

Relentless is the sequel to Powerless and (probably) the finale to the Hero's Agenda duology. If you haven't read Powerless, I recommend it to those who enjoyed

Steelheart by Brandon Sanderson, V is For Villain by Peter Moore, Zeroes by Scott Westerfeld, Illusive by Emily Llyod-Jones, Blackout by Robison Wells, Shatter Me by Tahereh Mafi, Red Queen by Victoria Avyard, The Young Elite by Marie Lu, or anything superhero-related. Also fans of Tera Lynn Childs's Sweet Venom series.
Kenna in the first book had discovered that she had a power. She can control electromagnetic energy, knocking out electronics with EMPs. Also, she's a villain and since the serum wore off, her villain mark is visible and she can use her ability. In this world, a type of virus with 2 strains, one for heroes and one for villain, gives people powers and also leaves a mark behind the ear that differentiates heroes and villains. To me it seems like there is no difference between the heroes and villain other that the mark, and it's more prejudice than anything.
Kenna's villain boyfriend Draven is being put on trial to be executed. Kenna and her team of "hillains" (heroes and villains working together) are there to rescue him. Kenna has disguised herself at a media reporter and her team is waiting in the wing ready to go on her mark. Everything goes haywire, and though they rescue Draven, someone else isn't so lucky and Kenna suffers a loss so hard, that she's not sure how she can move on. She set out for revenge, ready to defeat Rex Malone, the hero with malicious intentions, with everything she's got. This is an action packed sequel that reads like an actual super hero movie or TV shows. It's set in Colorado, which is a nice change of pace from all the NYC and Cali set superhero stories. And I've been to the Denver area in Colorado before, so that's a plus.
I really did enjoy this series. It was very short, though. The characters are very unqiue from one another. I did have difficultly remembering the character at first since it's been a year and Powerless was a pretty fast and short book too. I forgot who's who and what their power or relation is. I tried keeping track, though.
Character Recap: Kenna Swift (villain) is the main character, and her boyfriend Draven Cole (villain) has memory and bio manipulation ability, and he has blue eyes dark hair. Draven is Rex Malone's illegitimate son and cousin of Dante (villain) and Deacon Cole (villain), who are twins with wind and water manipulation powers. Nitro (villain) is British and can throw fireballs of various colors that identify what they do. Nitro's brother is Quake (villain), who can make small earthquakes. Nitro also has a crush of Riley Malone (hero), Rex's legitimate son who can fly. Riley's sister is Rebel aka Rachel Malone (hero), and she has telekinetic powers. She's also Kenna's best friend. Rex Malone (hero), their father, is an evil SOB with super hearing and wants to control and torture villains. His wife has ice powers. Jeremy Abernathy (hero) is part of the Hillains team, and he has technopathic abilities. He's also Kenna's ex-boyfriend and he's a nerd. V aka Victoria (villain) is Draven's bodyguard hired by his uncle Anton Cole. Also, Kenna's mom is a scientist that developed a serum to protect a person from the effects super powers. Kenna's dad was a superhero.
Cover Art Review: Not that great of cover. I'm not sure I understand what the symbol is for. Does it represent the villains? It's just a blah cover. The complementary color scheme is an interesting choice though.