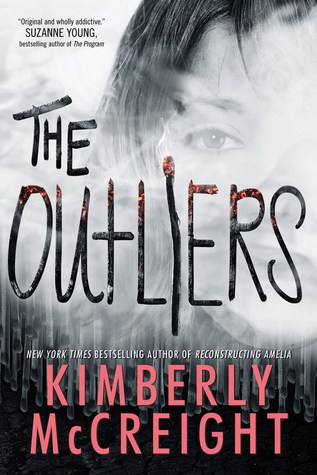 Publication Date: May 3rd, 2016
Series: The Outliers (bk. 1)
Genera(s): Suspense Thriller/Sci-fi
Subjects: mystery anxiety disorders, emotion, abilities, scientists,
Setting: Boston, Massachusetts and Seneca, Maine
POV/Tense: 1st person POV, present tense: Wylie Lang
Summary/ product description:
"From the New York Times bestselling author of Reconstructing Amelia comes a fast-paced teen series where one girl learns that in a world of intrigue, betrayal, and deeply buried secrets, it is vital to trust your instincts.
It all starts with a text: Please, Wylie, I need your help. Wylie hasn't heard from Cassie in over a week, not since their last fight. But that doesn't matter. Cassie's in trouble, so Wylie decides to do what she has done so many times before: save her best friend from herself.
This time it's different, though. Instead of telling Wylie where she is, Cassie sends cryptic clues. And instead of having Wylie come by herself, Jasper shows up saying Cassie sent him to help. Trusting the guy who sent Cassie off the rails doesn't feel right, but Wylie has no choice but to ignore her gut instinct and go with him.
But figuring out where Cassie is goes from difficult to dangerous, fast. As Wylie and Jasper head farther and farther north into the dense woods of Maine, Wylie struggles to control her growing sense that something is really wrong. What isn't Cassie telling them? And could finding her be only the beginning?
In this breakneck tale, New York Times bestselling author Kimberly McCreight brilliantly chronicles a fateful journey that begins with a single decision—and ends up changing everything."
My Review:

I won The Outliers as an ARC in a giveaway that I almost didn't enter, so I was hesitant to even read this book. I wasn't sure what the genera was. Realistic mystery? Sci-fi thriller? It's a little bit of both. It's very light on the sci-fi, which was okay. I really did enjoy the non-stop fast pace of this book. It made me feel a little anxious myself with all the crazy twists.
Wylie's got an anxiety disorder. She panics, and sometimes even passes out when too stressed. Before this trip, she hadn't left her house in three weeks. Her mom died a few months ago and she feels broken. Her brother Gideon seems to be the normal one, attending school, making jokes. Her father has almost become like a workaholic robot, so focused on her psychological research. Wylie's best friend Cassie isn't talking to her anymore. Cassie's had serious binge drinking problems that only seemed to get worse.
Wylie's friend Cassie is missing and suddenly starts sending her cryptic texts, one of which asks Wylie and Jasper to drive up north into Maine to rescue her. On the road, they run into trouble with the car, try hitch hiking, which also ends badly. A visit to the police only endangers them even more. It seems like every one is shady. Twist after twist and Wylie's not sure who to trust except her own instincts.
I really though the scientific concept behind Wylie's dad's research was cool. It played a big role in the story. I've read a lot of book about teens with scientist parents that get their kids mixed up in their research, which did happen in this book kind of. Emotional intelligence sounds like a real thing. It's like empathy, almost like ESP, but with emotions. The ones who could read emotion deaf and blind are called the Outliers in this book. I could totally read emotions, but doubt I could do it like an Outlier. Either way, it's a really cool idea for a story. Makes me think of Shade Me by Jennifer Brown, but Nikki had synesthesia to read emotions.
I recommend this book to those that enjoyed Shade Me by Jennifer Brown, Revived and Originals by Cat Patrick, Dangerous Lies & Black Ice by Becca Fitzpatrick, Find Me by Romily Bernard, Black Bird by Anna Carey, Don't Turn Around by Michelle Gagnon, or any other YA thriller that have action, mystery, or even a touch of science fiction.
Cover Art Review: I like the burnt match typography, but the cover itself is kind of boring with the cut off face.