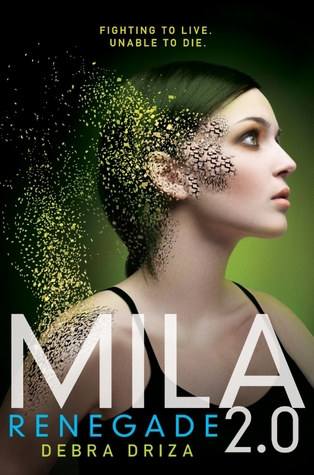 Genera(s): Sci-fi/ Thriller
Subjects: androids, robots, artificial intelligence, identity, love
Setting: Virginia Beach, Virginia; Knoxville, Tennessee; Chicago and Glen Ellyn, Illinois, then some compound of unknown location
POV/Tense: 1st

person POV, past tense: Mila
HC/PB: Hardcover and now in Paperback
Publisher: HarperTeen: Katherine Tegan
Summary/ product description:
"There is no one left for Mila to trust. Except for a boy she barely knows.
But Hunter has no idea who—and what—Mila really is. She can't bear to reveal her secret, even though he's unwittingly joined her search for Richard Grady, a man who may know more details of Mila's complicated past.
Yet the road to the truth is more dangerous than ever. With General Holland and the Vita Obscura scouring the earth for her whereabouts, Mila must rely on her newfound android abilities to protect herself and Hunter from imminent harm. Still, embracing her identity as a machine leads her to question the state of her humanity—as well as Hunter's real motives.
Perfect for fans of I Am Number Four and Divergent, this action-packed and heart-wrenching second installment of MILA 2.0 will leave readers breathlessly awaiting the series conclusion. "
My Review:

This was such an awesome sequel. It's been about 2 years since I read the first Mila 2.0 book and the 3rd and final one is coming out this month, so I though I better catch up. I thought maybe it's a good thing I waited to read the sequel, but if I knew it would be this good, I wouldn't have wanted to wait. Renegade is full of awesome.
Mila, in case you don't know, is an android. She's the narrator and act just like any other teenage girl would. She has feeling, which is not something you'd expect a robot to have. Mila was made to be the perfect weapon and she's now coming to terms with the fact that she's not human. She's just starting to accept her android abilities and the robotic voice in her head that gives her information.
Mila invites Hunter to meet her at Virginia Beach to help her on a search for some guy her mother knew. They travel to Knoxville, Tennessee, hoping they have the right guy. Since Hunter doesn't know the truth about Mila, she tells him that she's searching for her real father. She keeps avoiding the truth because she's afraid that it will hurt him. She fear his rejection. Then she starts becoming suspicious of Hunter because she never really looked into his past. Could he possibly be part of Vita Obscura?
I really like Hunter and I don't care is Mila is an android, I ship them. I hope they work out and maybe there's someway they can stay together. I just hope it doesn't turn out like Chappie and Hunter becomes and android or cyborg. Hunter loves manga, and I used to be into manga and anime too. He's sweet and adorable and funny and nerdy. Lucas, who's not really in this book much, was also nerdy and awkwardly adorable. Mila is a really interesting character herself. I've only read one other series in which the main character is an android, but she had her mind downloaded into and android body after she died. Mila has very human flaws and emotions. I really enjoy all the cool abilities she has too.
I want to mention the settings in the book. There was part of the book set in my state, Illinois. Mila takes a bus to Chicago, she sees Three there and they fight. Then she rides a bike to Glen Ellyn in 2 hours (a Chicago suburb 23 miles directly west of the downtown Chicago) which I'm pretty sure in not possibly unless you're and android, because it took my brother 2 hours to get to Bellwood. Glen Ellyn is where I went to community college (College of Dupage) for 4 years. It's like 15 minutes away. Fun fact about it: Ghost Adventure's Zach Bagens went to school there.
This book was so full of twists and non-stop action. I was never bored reading it. It's completely entertaining. I hate when book feel slow and this is not a slow book at all. I wish all the books I read were this exciting. I also wish there was more contemporary sci-fi out there. Most sci-fi is dystopian, and others are more paranormal than sci-fi. There needs to be more sci-fi thrillers set in the present, without impending apocalypses.
I recommend this to fans of the Terminator movies, Chappie and Transcendence, and TV shows like AMC's Humans, Fox's Almost Human (cancelled after 1 season), Bionic Woman, other robot-android-cyborg TV or movies. Also book like the Insignia series by S.J. Kincaid, Robin Wasserman's Cold Awakening series (about a girl who's mind was downloaded into and android body), Unremember by Jessica Brody, False Memory by Dan Krokos, The Taking by Kimberly Derting, or Altered by Jennifer Rush.
Cover Art Review: Similar to first book's cover. Lovely effect with the square coming off the model.