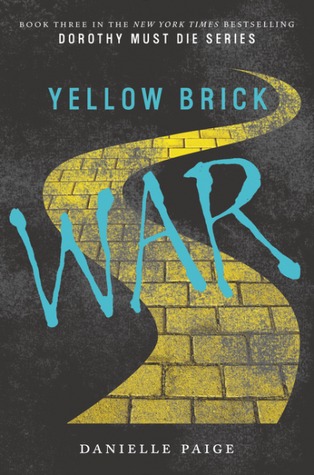 Series: Dorothy Must Die (bk. 3)
Genera(s): Fantasy/Paranormal Romance
Subjects: magic, adventure, retellings, witches, wizards, fairy tales
Setting: Flat Hill, Kansas, Oz
POV/Tense: 1st person POV, past tense: Amy Gumm
Summary/ product description:
"In this dark, action-packed third book in the New York Times bestselling Dorothy Must Die series, Amy Gumm—the new girl from Kansas—must do everything in her power to save Kansas, kill Dorothy, and make Oz a free land once more.
Amy Gumm's mission to take down Dorothy Gale is not going according to plan. Dorothy has found a way to bridge the worlds of Oz and Kansas, and if the power-hungry dictator of Oz has her way, Kansas will be destroyed forever. Now, Amy has to team up with the Revolutionary Order of the Wicked to save her home, restore the balance between the magic and nonmagic worlds, maybe get the guy—and kill that not-so-sweet Kansas farm girl once and for all.
In the third installment of the New York Times bestselling Dorothy Must Die series, Danielle Paige's twisted versions of beloved Oz characters are back, including the biggest, baddest, most famous of all: the Wicked Witch of the West.
Welcome to the other side of the rainbow. Here there's danger around every corner, and magic shoes won't be able to save you."
My Review:

If you thought this was the final book of the Dorothy Must Die series, then you were wrong. I was wrong. I was completely expecting a finale, but it ended with more questions and problems left to be resolved. Will this series stop at 4 books, or continue to 5 or beyond?
So, Amy and the witches appear in what used to be Amy's home, Dusty Aches trailer park. They can't get back to Oz, so they have to find another way. They suggest that Amy look for Dorothy's original shoes, the silver slippers. They tell her that Dorothy farm used to be where her school is now. Also, now Nox joined the Quadrant of witches and he's no longer allowed to have a relationship with Amy.
So Amy heads back to school and suddenly her high school nemesis Madison is trying to be her friend. Madison already gave birth to her baby Dustin Jr. and is carrying him around school and is no longer queen bee. Dustin, the father of her son and Amy's previous crush also befriends her. Amy enlists them to help with her search under the guise of looking for proof that Dorothy was real.
No one believes Amy's story about where she's been, but she can't tell them the truth because it's too crazy. Also her mom's cleaned up while she was gone. No drugs or alcohol. She's living in an apartment since the trailer's gone and she's even got a job. When Amy and the witch finally do go back to Oz, all hell breaks loose and Glinda and Dorothy are no longer on the same side, but not on Amy's side either.
Yellow Brick War was an interesting 3rd book, but it was very short. I wonder if Danielle could have just extended the book to make it a finale. I did like the few romance scenes with Nix, but there wasn't enough. I love the character still. They're all pretty unique and funny. The book feels like a comedy series at times on top of the fantasy stuff. I love the magic and creatures. Stuff seems weird, but in a good way. I recommend reading the novellas prior to reading this. I recommend this series to fans of Once Upon a Times and other retellings.
Cover Art Review: I like the minimalist style and texture, but this cover doesn't have a character on it like the previous ones.